2017 IBC Community Award in Memory of Mary Knowles Recipient
Recipient: Sara Hershoff, Publisher, Creemore Echo
Not much happens in Creemore that isn't, in one form or another, supported by Sara Hershoff. As owner and publisher of the Creemore Echo, she is the go-to person for help or advice and contributes generously to the success of residents and businesses within her community.
Sara began working for the small independent community newspaper in 2001 and worked her way up the ranks to become publisher in 2011. She took ownership last year, committed to keeping the paper hyper local to best serve its readers and her community.
The newspaper, under her leadership, also holds an annual food and toy drive to support local charities. However, her selfless community contributions do not end here.
As event coordinator of The New Farm annual fundraiser, Sara has attracted people from all over the province and helped put Creemore on the culinary and cultural map. The small community event invites guest to enjoy fresh, local foods, and has raised over $100,000 for Community Food Centres Canada and The Stop Community Food Centre. It has even attracted performances by The Tragically Hip and Sam Roberts Attendees enjoy good food, good music and connect with like-minded people, creating a true sense of community.
Sara is the longest serving volunteer board member of the Purple Hills Art and Heritage Society, having joined in 2000. She helped initiate the Creemore Festival of Arts and is Chair of the Tea of History committee, which provides education programs to share heritage of the area.
Roughly ten years ago she joined the Avening Community Centre Board and is dedicated to making community halls relevant. She helped transform the Avening Community Centre into an extremely successful concert venue and implemented the SAvening Campaign, which promotes public awareness for the value of community halls. In addition, she is a founding member of Clearview's Small Halls Festival and helped to implement activities such as a permanent installation on the history of Avening, a Dog and Pony Show, a Day with Man Tracker, and other events designed to celebrate rural culture and engage the public with community halls.
Most recently Sara took on the role of Treasurer with the Business Improvement Area (BIA) and is busy volunteering the rest of her spare time to improve business in Creemore.
The president of one of the organizations Sara supports, reports that she "plays a vital role in the village of Creemore as a volunteer". Sara is an industry and community leader and contributor, which is why the Ontario Community Newspapers Foundation (OCNF) and the Insurance Bureau of Canada is proud to recognize her with the 2017 IBC Community Award in Memory of Mary Knowles.
Sara will be invited to accept her award during the BNC Awards Gala on Friday, April 20 at the Sheraton Parkway Toronto North Hotel.
The Award is coordinated by the OCNF, with generous support of the Insurance Bureau of Canada (IBC). Together, we are committed to recognizing dedicated newspaper employees who are constantly making a difference within their communities. Mary Knowles was a dedicated newspaper employee and active community member who died from breast cancer in 1996.
For more information, please contact Kelly Gorven at k.gorven@ocna.org or 416-923-7724 ext. 4439.
---

2016 Insurance Bureau of Canada Community Award in Memory of Mary Knowles
Recipient: Rick Shaver, General Manager, TC Media Cornwall
In 1985, Rick Shaver co-founded the Cornwall Seaway News and ensured the community newspaper remained just that – a very large part of its community. Despite changes in technology and the way readers receive their news, Rick's commitment to the product has not changed. He continues to build relationships, encourages his staff to do the same, and provides the community with a gateway to share their stories.
Rick has a contagious positive energy and grin to go along with it. He is a recognized voice within the Cornwall community and frequently approached by leaders of organizations looking for help.
While Cornwall Seaway News prints ads and publishes editorials to help various organizations, Rick chooses to be a little more hands-on. He has been nicknamed the "Godfather of Pizza" and continues to coordinate the Kinsmen Club of Cornwall's Annual Pizza Party, which pits eight local restaurants against each other in a friendly competition to discover Cornwall's best pizza. Now in its 11th year, the fundraiser has collected $140,000 for local charities.
He also helps with the Multiple Sclerosis Society of Cornwall's Italian Night, which typically sells out and attracts roughly 300 guests each year to raises money for those affected by MS. Rick's close ties with Big Brothers Big Sisters has seen him participate in bowl-a-thons, and he continues to support the Boys and Girls Club of Cornwall and the St. Lawrence River Institute of Environmental Sciences. He was recognized for his tremendous volunteer contributions with a Queen's Diamond Jubilee in 2012.
He has served the Ontario Community Newspapers Association's board of directors for 16 years, acting as President in 2007 and lending his knowledge and passion for the industry. He somehow finds the time to sit on many other boards, including Cornwall and the Counties Community Futures Development Corporation and the Kinsmen Club of Cornwall, of which he has served as President and Chairman of many community events for a combined total of 25 years. Not to mention the number of organizations he has helped in the past, including the Canadian Community Newspapers Association, Cornwall Chamber of Commerce in various roles for 21 years; the Cornwall Carbon Reduction Committee and the Agapè Food Bank.
Rick is an industry leader and community role model, which is why the Ontario Community Newspapers Foundation (OCNF) and the Insurance Bureau of Canada is proud to recognize him with the 2016 IBC Community Award in Memory of Mary Knowles.
---
2015 IBC Community Award Recipient
Recipient Scott Rosts, Managing Editor, Niagara This Week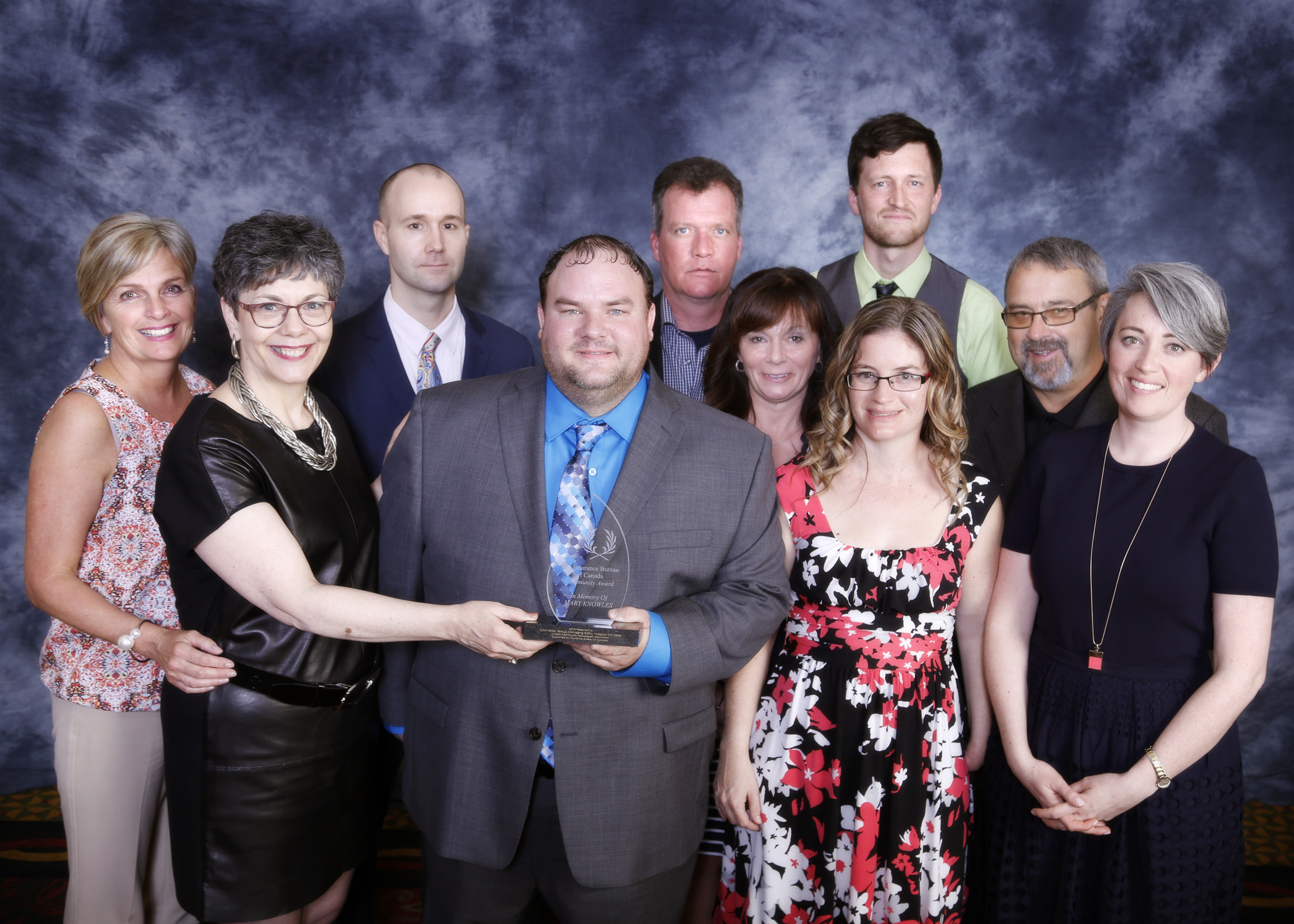 Scott is never too shy to lend a helping hand. He believes that every group could use support to achieve their goals, whether with a monetary value or raising awareness through a newspaper profile. Since joining the Niagara This Week team roughly 15 years ago, Scott has encouraged and inspired fellow colleagues to do the same and build relationships with those working to make their community a better place.
Despite an already busy work schedule, Scott manages to find time to volunteer with various organizations, setting a positive example for everyone around him including his three children. Since 2013 he has been an active panel member with the NEXTNiagara youth retention and attraction initiative. The group of leaders are committed to seeing their community grow and become a viable place for the next generation to live and work.
He helped organize the inaugural Dining in the Dark fundraiser for CNIB, securing sponsorship, seeking silent auction items, coordinating media coverage and taking care of social media promotions. The dinner collected $16,440 and set a high standard for what is now an annual event.
In addition, he has served as director of public relations for the St. Catharines Female Hockey Association since 2011, and helped with a rebranding process which included a new the development of a new Web site.
His efforts do not stop there. Scott has built quite a strong reputation for being a key community partner, and organizations recognize that he can be counted on to deliver their message. He truly believes a difference can be made through the power of numbers and rather than watch from sidelines, has participated in various events while also covering them for newspaper content. Scott has 'Walked a Mile in HER Shoes', pedaled during a 24-hour 'spinathon' for the Canadian Cancer Society and joined an 'Out in the Cold' program to help raise funds and awareness within his community.
Scott is an industry leader and community role model, which is why the Ontario Community Newspapers Foundation (OCNF) is proud to recognize him with the 2015 Insurance Bureau of Canada Community Award in Memory of Mary Knowles.
---
IBC and OCNA Team Up to Support Community Service

Insurance Bureau of Canada (IBC) and the Ontario Community Newspapers Association (OCNA) announced the Insurance Bureau of Canada Community Award in Memory of Mary Knowles.

"IBC and its members have a proud history of working locally to make a difference, and partnering with OCNA is a great way to support those individuals who make outstanding contributions to better their communities," says Ralph Palumbo, Vice President, Ontario, IBC.

The Mary Knowles Award was created in memory of Mary Knowles, a dedicated newspaper employee and active community member who died from breast cancer in 1996. This award recognizes both the contributions of individual newspaper employees and the intimate connection community newspapers have with their communities.

"We are pleased IBC is committed to recognizing local heroes with this important community service award," said Anne Lannan, OCNA's Executive Director. "Community newspapers create strong communities across this province because of their intimate connection with local groups, businesses and government. Dedicated newspaper employees make it happen."