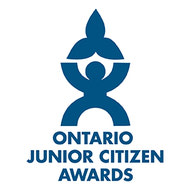 2016 Ontario Junior Citizens Announced
The 2016 Ontario Junior Citizens Finalists have been selected, and will be recognized by OCNA member newspapers for their outstanding achievements. In a world where electronics make it easy to stay tucked indoors, this group of young people are stepping out and volunteering their time to make a difference. They are truly an inspiring bunch with kind hearts, whose stories illustrate leadership, creativity, determination and generosity.
These final recipients and their families will be invited to a special ceremony in Toronto to receive their award.
The 2016 Ontario Junior Citizens listed in alphabetical order:
Mansimran Anand, 17, Brampton
Hoping to provide seniors with an opportunity to improve their health from the comfort of their own homes, Mansimran founded the Anand Lotus Yoga Show. Now in its fourth year, airing on Rogers TV and YouTube, it reaches an estimated 100,000 homes in her community and surrounding areas. The teen not only produces each 30-minute episode; she is also responsible for raising more than $70,000 for continued production and distribution of the program.
Blaise Barber, 18, Hamilton
Blaise is an exemplary 'good kid'. Similar to any young student contemplating their future, Blaise was unsure about his career and life goals. He began volunteering his time with Special Olympics, coaching basketball, soccer and track and field, and found his passion. He has since dedicated his time to bettering the lives of children with disabilities and hopes to become a Special Education teacher. Additionally, Blaise manages to balance community volunteer work while he co-captains his school's senior football team and helps the Utopia Club fundraise and support social justice issues.
Nadine Carter, 13, Stouffville
A school project two years ago led Nadine to lobby for a forgotten WW1 hero in her community. Captain Roy Brown is the Canadian fighter pilot credited with shooting down the Red Baron. With Nadine's help, a new stone was placed over Brown's previously unmarked grave and two plaques honouring the soldier were unveiled during a weekend-long celebration in her community. At just 13 years old, Nadine has immersed herself in Canadian history and her enthusiasm has inspired others to seek unmarked graves of Veterans within their own communities. She is now working on her next project, aiding Canada's soldiers alongside the Wounded Warriors organization.
Veronica Chan, 17, Markham
One particular defining moment (among many) that exemplifies Veronica's community leadership is an event she spearheaded called 'Espresso-Self'. Hosted as an open-mic platform, it provides students the opportunity to express themselves through artistic performances in order to open the conversation of mental health. She is also currently co-chair of the Unionville Youth Council and acts as a liaison to Unionvilla, a local senior's home, recruiting youth to volunteer for 'Tea Socials' every Sunday. Despite her extensive involvement in leadership activities, she manages to maintain a 95% grade average.
Corbin Evans, 12, Brockville
Corbin personally fundraised more than $5,000 in just six months for Canadian Aid for Chernobyl. He worked tirelessly to organize bottle drives, lemonade stands and Krispy Kreme Donut fundraisers, even donating his own birthday money to raise this amount. The money was spent on a birthday party (with presents) for more than 100 children in an orphanage, which Corbin was delighted to attend. He will be revisiting Chausy, Belarus this year to host another party.
Sarah, 14 and Claire Jordan, 11, Toronto
While many siblings may argue over who gets the TV remote or who gets to ride in the front seat, Sarah and Claire are working together to feed those less fortunate. With tremendous support from their community, the duo's food drive raised more than 75,000 pounds of food just last year. They even recruited help from 14 different schools creating a challenge, which pits schools from East of Bayview against schools West of Bayview, in a friendly competition to see who can collect the most. Since 2008, over 290,000 pounds of food have been donated to their local Food Bank.
Brooklyn Lampi, 13, Kincardine
Sometimes the smallest of contributions can make a huge difference. Giving a homeless man $40 - money she had saved for a pair of jeans she desperately wanted - is just one example of Brooklyn's kind heart and desire to help others. In addition, at just 13 years old, Brooklyn was able to convince her mom to let her travel to Ecuador for two weeks to help build a school. She spent a year working and hosting fundraisers to be able to afford her $3,000 trip. She is currently planning for another trip with Me to We, this time travelling to India for three weeks.
Miranda Li, 17, Toronto
Miranda has a strong passion for science and entrepreneurship. Her project on the effect of hydrogen peroxide on the mung bean seed germination won her a gold medal at the Toronto Science Fair. Hoping to challenge herself even more, Miranda began working on a project entitled 'License to Kill: Characterizing suicide genes as safeguards for cell based therapies', which took seven months of investigation and hours upon hours of lab work. She presented it at the Sanofi Biogenius Competition (SBC) Regional Fair, earning another first place finish. Her achievements are not only personal, but they will positively benefit the world someday.
Sharon Lim, 16, Oakville
Sharon is a well-rounded individual, working hard in school to maintain a 98% average and dedicating her spare time to volunteer initiatives, which include tutoring students during lunch hours, being a camp counsellor and working with Habitat for Humanity. She is currently planning a local 'Children's Farmers Market', an event for talented youth to sell art and handmade crafts all by themselves. All of the profits raised will be donated to her local Children's Aid Society.
Jack Mogus, 16, Oakville
Whether visiting northern communities to deliver sports equipment, or cleaning public areas of his hometown, Jack is always ready to accept new challenges and find ways to help. In 2012, Jack took the initiative to begin 'Change by YOUth', encouraging volunteerism and igniting positive change within his community. His organization has collected more than 2,000 pairs of skates and hockey equipment for First Nations schools. Jack has even personally travelled to remove fly-in communities such as Cat Lake and Wapekeka to deliver some items.
Dario Smagata-Bryan, 17, Welland
Attracted to the message of being able to save lives, Dario joined Ontario Students Against Impaired Driving (OSAID) four years ago. He regularly volunteers his time, whether to organize and help run school events like the Relay for Life, create props for a play, or spend time in a soup kitchen serving meals to those less fortunate. Dario has Asperger's Syndrome, but doesn't let it stop him from making a difference. He has overcome many social anxieties to become involved at his school and within his community.
Hira Waheed, 17, Hannon
Hira continues to push through every day while living with Multiple Sclerosis. She does so with a smile on her face and an eagerness to help others. Her greatest involvement has been with the Celtic Circle Student Leadership Club at her high school. She played a pivotal role planning the 'Girls Night In' event, which provided female students an opportunity share experiences and reflect on body image, in a relaxed, social environment. It was an enormous success.
The Ontario Junior Citizen Awards are promoted through the 300 member newspapers of the Ontario Community Newspapers Association. Nominations of eligible youth aged six to 17, are received through member community newspapers committed to recognizing the outstanding leaders who are making a difference in their communities. Nominees may be involved in community service; young people who are contributing to their community while living with a physical or psychological limitation; or individuals who have performed acts of heroism or bravery. Candidates are also recognized for being 'good kids' who show a commitment to making life better for others. A panel of judges unanimously agreed on the final award recipients.
Our Sponsors
Our goal to recognize outstanding young people in communities across Ontario would not be possible without the generous support of our corporate sponsor, TD Bank Group.

For more information about the Ontario Junior Citizen Awards, please contact Kelly Gorven at k.gorven@ocna.org.