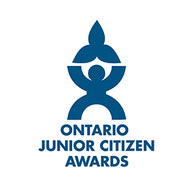 2018 Ontario Junior Citizen Award Finalists Announced
The Ontario Community Newspapers Association (OCNA) is proud to celebrate the excellence of the 13 final recipients who have been chosen to receive 2018 Ontario Junior Citizen Awards. These young men and women range from nine to 17 years of age, and have actively demonstrated strong leadership skills, creativity, determination, generosity and a desire to make a difference within their communities. They will be recognized with an Ontario Junior Citizen Award during a special ceremony on Monday, March 18 in Toronto.
The 2018 Ontario Junior Citizens listed in alphabetical order:
Zara Belanger-Pepper, 13, Chatham
Losing a loved one at the age of eight can be life altering. But Zara managed to focus her grief and attention on to something more positive. She wrote about her experience of losing her father to suicide and produced a book titled "What Have I Learned" to help others heal from loss. The illustrated publication, launched during Suicide Prevention Awareness Month in 2017, talks about family, confidence, grief and expressing yourself. Since then she has spoken publicly in front of many organizations and donated printed copies of her book to the Canadian Mental Health's Grief Works Program, VON Kids Circle Program. But most importantly, she wanted her message to be available to everyone, so the publication can be downloaded online for free. See it here: https://snownet.ca/zara/.
Iman Berry, 17, Windsor
In 2018, Iman founded "Youth Collective" and ran a project that connected Canadian students to refugees with hopes to increase cultural awareness and make newcomers feel more comfortable. She was also a Windsor Youth Consultation Organizer for Canada's first ever Youth Policy. In this role, Iman worked alongside the Prime Minister's Privy Council to collect information from youth in Windsor.
As if she didn't have enough on the go already, Iman was one of 20 Canadian delegates selected to participate in an Economic Trade Mission to China. She is a Windsor Essex Regional Youth Council member, a Windsor Islamic Association Board contributor, a Rotary Club Peace and Conflict Committee member and an Ontario Student Trustee Association Advocacy Committee member. In addition, she organized a "Music for Mental Health" charity community concert and raised $2,900 for the Canadian Mental Health Association.
Karanjot Bhatia, 14, Brampton
Karanjot lives with Cerebral Palsy but he does not let it be an obstacle in his pursuit of making a difference within his community. He volunteers his time at ErinoakKids where he shares his passion for robotics and STEM with other physically challenged children. He helps organize recreational trips for the elderly through the Guru Gobind Singh Children's Foundation and has dedicated time to the Seva Food Bank in Malton as a personal shopper for families in need. In addition, Karanjot is a regular volunteer at a local Gurudwara on Saturdays and Sundays serving food and washing . He also recently participated in the Brampton 2040 Vision Youth Symposium and presented an implementation strategy based on public engagement, collaboration, design, technology, and identity to a panel of judges. His ideas earned him 2nd place out of 250 students that attended the day-long workshop.
Morgan Burke, 16, Haliburton
At just 15 years of age, Morgan decided to start her own business combining her love of nature with her desire to provide a valuable product and service. Her goal? To develop a line of products using honey bees as a resource. She took courses at Trent University to learn about the process of raising bees and successfully applied for a grant through the Kawartha Summer Company Development program. She became a regular face at local summer markets and has even participated in the Royal Winter Fair in Toronto where she received awards for best customer service and best booth display. A year into her entrepreneurship, Morgan began looking for ways to share the success of her business with her community. The "Bee'cause We Care" initiative was born last summer with honey bottled in branded jars supporting Haliburton Highlands Health Services. She has contributed over $1,200 to the organization, all while maintaining honour roll as a grade 11 student.
Taylor Dallin, 16, Toronto
Taylor's countless contributions began when she was in grade 6 and spoke at a public hearing to stop the destruction of trees in her neighbourhood. She was the youngest in attendance. This act of leadership and drive only fueled her fire, as she then went on to become Head Prefect of her school's Student Council and was selected to be a page for the Legislative Assembly of Ontario. A couple of years later she became an Ambassador for Model City Hall, a non-profit organization with a mission to make municipal politics more accessible for youth, of which she is now Co-Chair. She was the Community Engagement Lead for a youth-led environmental organization called Global Figure and held the role of Student Bill of Rights Ambassador for the Federation of Canadian Secondary Students. In addition, she has helped with the Canadian Cancer Society's daffodil sales and the RBC Race for the Kids. These are just some examples of the organizations to which Taylor has dedicated more than 885 community hours.
Mya + Nathan Hart, 10 + 9, Ajax
In early 2017, Mya and Nathan helped musician Feist deliver backpacks to children and teens living with AIDS in Malawi. Collectively the siblings gathered 562 backpacks, which would be used to carry medications to and from school. That same year, they decided to spearhead a similar initiative to help those within their own community. They began working with Durham Regional Victim Services and collected 200 flashlights, 200 tubes of toothpaste, 150 toothbrushes, deodorants, soaps, and an additional 100 backpacks.
Seeking other ways to show leadership and make a difference, the two decided to launch a recycling campaign with a mission to educate their peers about the various school supplies that can be recycled so they do not end up in landfills. These items include mechanical pencils, pens, markers and highlighters. They have created recycling bins with easy to follow instructions, which have been placed in classrooms within their school and are encouraging others to be eco-friendlier.
Vanessa Morris, 17, Chelmsford
Vanessa is an exceptional student and leader, maintaining a 92% average and accumulating over 400 hours worth of community service during her first two years of high school alone. She served as a legislative page when she was 13 years old and enriched her knowledge of politics. Since then she has taken on the role of Youth Advisor on the first ever North East Local Health Integration Network (LHIN) Patient and Family Advisory Committee and attends regular meetings weighing in on best practices to service patients and their families. Furthermore, she has crochet "granny squares" and made blankets to help keep cancer patients warm during treatment.
In addition, she was selected to participate in SHAD's 2018 summer enrichment program, is a student representative on the Conseil Scolaire Catholique du Nouvel-Ontario sectorial tables, and a spends her spare time as a teacher/mentor for the TaeKwonDo Club in her community.
Racheal Ou, 17, Scarborough
Racheal regularly volunteers with Chatting to Wellness, a weekly senior's program for those with disabilities who need company and conversation. It's here that she came up with the DREAM program, which stands for "DRop Everything And Meditate" and encourages positive attributions. With a continued desire to improve mental health, she has found additional outlets to do so. For example, after attending Harvard University last summer to study Epidemiology and Statistical Programming, she produced a scientific paper that outlines the relationship between depression and marijuana consumption.
In addition, Racheal is founder of "The Youth Projector", a non-profit organization that caters to voicing the issues of youth in her community. She is president of the Toronto Youth Environmental Council and promotes environmental activism, an executive member of Sustainable Youth Canada, sits on the Toronto District School Board Student Senate, and is actively involved in many extracurricular activities within her school.
Andrew Poirier, 14, York (Haldimand County)
Andrew has been involved with Wounded Warriors Canada since he was just nine years old. He currently builds and sells birdhouses made from upcycled wood and old license plates to collect funds for therapy dogs for veterans with PTSD. Through this initiative he has donated more than $8,000. Additionally, Andrew has a strong passion for promoting inclusivity. As a result, he has gained permission from his school and is working on organizing its first Mental Wellness Day. He has volunteered his time for several years with the Knights of Columbus, providing support to families with medically fragile children and spends every other Saturday with the Good Shepherd in Hamilton serving meals. He has accomplished all this with determination and resilience while living with juvenile arthritis.
Chyler Sewell, 16, Hamilton
Chyler showed interest in the Neighbour-2-Neighbour Hamilton Community Food Centre when it first came into existence two years ago. Since inception she has volunteered every Wednesday afternoon as a teen lead in the Kids Club After School Program. Her experience at the food centre inspired her to join Eco Ninjas, an after-school club of students who care about the environment and encourage others to become involved in various activities including gardening, advocating for solar panels, and managing recycling or compost need of the school.
Last year she was selected to travel to Pangnirtung, an Inuit hamlet, Qikiqtaaluk Region in Nunavut. She was chosen to represent her Anishnaabek community, about which she is passionate. She recognizes that the traditions of her First Nations heritage are at risk as the elders pass away. As an aspiring writer, she understands the urgency of recording this information for future generations and has been doing so with help from her mother to preserve her community's rich histories.
Jacob Taylor, 11, Metcalfe
At just 11 years old, Jacob is involved in many community groups and has proven to be a role model and inspiration for young generations. In response to his own experience being bullied, he started and now runs a monthly Kindness Club. He is a Metcalfe Community Association Youth Ambassadors Junior Assistant to the Manager of his community's local farmers market. Last year he organized a collection campaign within his school to donate warm socks to the homeless in Ottawa and continues to help organize an annual toy drive to collect items for a local women's shelter.
Notably, he became the youngest member to join the Metcalfe Community Association after convincing them to change the Bylaws stating only adults could join. He has since been appointed Youth Ambassador and attends monthly meetings and various community events.
Guramrit Thandi, 16, Brampton
Guramrit is founder of the "Heart Attack Campaign" and is on a mission to educate the elderly about the symptoms and effects of a heart attack. She recognized the lack of counselling services for cardiovascular health and decided to take action. She travels to senior homes across the GTA and leads informational sessions for residents. It has grown to become an official organization within her school with over 60 members contributing through various roles. Furthermore, Guramrit is executive director of her school's PETA club, president of the Aspiring Medical Professionals club, senior representative of the Science Club, a member of Student Council and a member of the volleyball, track, cross-country and badminton teams.
The Ontario Junior Citizen Awards are promoted through the OCNA. Nominations of eligible youth aged six to 17, are received through 240 community newspaper members committed to recognizing the young leaders who are making a difference in their communities. Nominees may be involved in community service, are contributing to their community while living with a physical or psychological limitation, individuals who have performed acts of heroism or bravery, or those who achieve excellence in personal achievement. Candidates are also recognized for being 'good kids' who go above and beyond what is expected of their age and show a commitment to making life better for others. A panel of judges unanimously agreed on the final award recipients.
Our Sponsor
Our goal to recognize outstanding young people in communities across Ontario would not be possible without the generous support of our corporate sponsor, TD Bank Group.



For further information, please contact:
Kelly Gorven
Ontario Junior Citizen Award Coordinator
Ontario Community Newspapers Association
416-923-7724 ext. 4439
k.gorven@ocna.org