2021 Ontario Junior Citizen Award Final Recipients Announced
The Ontario Community Newspapers Association (OCNA) and their member newspapers are very proud to celebrate the final recipients of the 2021 Ontario Junior Citizen Awards.
These outstanding young individuals, aged nine to 17, are making a difference in their communities. Not only do these inspiring individuals see a need but rise to the challenge and contribute both their time and energy to making improvements. At a young age, they are committed to making a difference.
The 12 finalists will be invited to celebrate their accomplishments during a special virtual ceremony on Wednesday May 11th.
Please join us in celebrating the 2021 Ontario Junior Citizens, listed below in alphabetical order.
Jacob Colatosti, 17, Hamilton
Jacob is a true believer of civic engagement, and that youth can play an important role in advising government on important issues. Jacob believes that you can have a voice in government, even if not old enough to vote. He used this voice to encourage voter turnout during the federal election.
He is a member of local Constituency Youth Council which offers federal government a youth perspective on important issues including climate change and mental health, while also working on community projects including community cleanups and food drivers. He is also an ambassador for UNICEF Canada One Youth U-Report, creating content and speaking about key issues it stands for.
Jacob is trying to change history by advocating to lower the voter age in Canada. He is one of 13 young people from across the country that has filed an application at the Ontario Superior Court of Justice to challenge the voting age in Canada.
He is also involved in many extracurricular activities and is an academic achiever.
Alexandra Elmslie, 17, Guelph
Alexandra has been significantly involved in community service over the past four years; and intends to amass 1,000 hours of volunteer work by the end of high school.
Alexandra's many activities include: election campaign youth engagement lead for local MPP, youth council president, KidsAbility youth advisory council co-chair, Upper Grand DSB student senate, reading club, hockey coach, swim coach for Special Olympics, and many more. She has received several community awards, is an honour roll student, musically talented and bilingual.
Her biggest motivator for all her volunteerism came from her own challenges as a student with ADHD. She has found ways to manage her mental health and wellbeing and used these as motivation and inspiration to work on projects that facilitate real change and have impact on others.
Stella, Portia & Violet Gorgonio, 12/10/8, East Gwillimbury
In January 2021, sisters Stella, Portia and Violet started an organization called LIL BIG KID Squad, after being inspired by friends to make holiday cards to cheer up seniors during pandemic lockdowns. They rallied their friends, and through a series of virtual meetings to discuss and plan community activities, they created and completed 12 successful projects.
Their projects included Elf Squad, making cards for seniors in long term care facilities; Kid Squad, putting together 400 jars with inspirational notes delivered to kids' porches during school lockdowns; Super Squad, collecting over 3,500 lbs. of food and over $5,000 in cash and gift cards with Food 4 Families for the Newmarket Food Pantry; Earth Squad, picking up 776 bags of garbage, and many other community endeavors.
Neha Gupta, 17, Dundas
Neha has been involved in the fight for human rights and equity since 2018. At the age of 14, she became co-Chair of the Human Rights and Equity Advisory Committee for her school board and has been re-elected for this position since then. The Committee meets monthly, but Neha extends work to outside meetings; facilitating discussion between members, meeting with community stakeholders, and mentoring new members.
She has led the initiative to terminate the Hamilton Police Liaison Program within her school board. She's a two-time TEDx Speaker - on the inequities and urgent need to dismantle barriers. Neha was invited to speak at the school board's Administrators Day on the importance of student identity in the classroom. She has empowered others to take action against injustice.
She is an IB Diploma Candidate, competes in Science and Engineering Fairs, has created a digital magazine relating to science, and speaks at human rights-related events.
Neha has faced her own divisions in school due to her religion and race and is passionate about promoting multiculturalism and diversity in schools. These experiences help fuel her hope for inclusivity.
Sophie & Valerie LeVasseur, 16 & 13, Ottawa
Sophie and Valerie are two very motivated sisters who want to make a difference, one step at a time.
Sophie has been involved with volunteering and fundraising for many vulnerable groups including young girls, veterans, and kids with hearing deficiencies Along with her fundraising, she provides comfort and support to these individuals through her volunteering. She is currently running a fundraising campaign to support the local kids' hospital to enhance research of heart issues. She is an elite baseball and hockey player and helps to train and coach junior sports teams. She recently received a grant to purchase electronic equipment to allow kids with hearing deficiencies to learn to play baseball for the first time.
Valérie is actively involved in organizations catering to women's issues. She began with Girl Guides, then started volunteering with the local church to raise funds and Christmas gifts for children in need. She has organized social events for the inclusion of new arrivals to Canada and was part of a group encouraging young kids to take part in sports, explaining how to play and getting free equipment. Valérie takes great pride in the sports she plays, hockey, baseball and swimming and is a highlander dancer, mentoring younger dancers throughout the year.
Both sisters have helped publish several books with proceeds going to a variety of social causes. 'A little Girl Suffers from Cancer' also resulted in Air Canada donating $50,000 to the CHEO Foundation on behalf of Valerie and the book. Other books published include 'VIMY, the duty of A Soldier and of a Country', and 'Ottawa Senators, 1923, Determinations and Courage'. They are completing their latest book on the 100 Most Remarkable Women in Canada. The book will have a special version in the four Indigenous languages of the 10 Indigenous women interviewed and will be distributed on Reserves in Canada.
Abby Mitchell, 7, Port Dover
In the Spring of 2021 Abby created 'The Abby Post', a local Port Dover newspaper - to share community news and to give residents something to do during the isolation of COVID.
Abby's paper was about more than sharing news. She felt it was important that people had something to do during COVID. Rediscovering the town and county became a focus for her writing, along with sharing fun activities to do around town, either for free or for minimal cost, keeping in mind that not everyone could pay to have fun. Interviews showcased not only local businesses, but everyday people and family members.
Abby collected money selling bags and pens, and from interview fees, which were given to the food bank in Port Dover. She raised $3,400 over the summer and continues to raise money with new interviews and sponsorships.
Jin Schofield, 17, Richmond Hill
As an aspiring neurosurgeon and neuroscientist, many of Jin's activities are innovation and medicine-focused. She is a co-founder of ConchShell, a start-up that seeks to create a wearable translator for the speech-impaired that converts American Sign Language into a spoken voice. ConchShell has since earned $16,600 in funding.
She's co-lead of a youth non-profit Operation Med School Toronto, organizing conferences and events allowing youth to interact with medical students/professionals. The organization engages with over 1,000 students through social media. She also co-leads STREAM Syndicate, that exposes students to learning opportunities across STEM, the arts, and humanities.
Jin is CEO of MarketAngelo, a student start-up that operates a website allowing students to learn about ESG ethical investing. She is President of the Student Council, President of the school's HOSA (future health professionals) chapter, President and founder of her school's Medical Sciences and Statistics Club, and co-President of the school newspaper.
She was a volunteer researcher at the Hybrid Biomedical Optics Laboratory at York University, senior board member of her school's competitive robotics team, and is the director of parliamentary debate for her school's Debate Club.
Jin has a medical condition that often hinders her ability to work for long hours. Her personal experience with this difficulty, as well as her past life experiences, have made her a very empathetic and passionate person that seeks to better the situations of other individuals.
Kusha Shirani, 17, Oakville
Kusha began serving the community at the age of nine by raising money for McMaster Hospital childhood cancer research through making and selling comic books at his school. The project grew to raise $2,000. He is a champion of his community and has made measurable impacts as a passionate advocate for children, youth and the environment. His volunteer activities are as varied as his skills, and they include: mentoring and coaching young children both academically and athletically, and organizing various fundraising and food and clothing drives to help children and youth in need.
To date, he has completed more than 1,000 hours of community service for causes including: Oakville park ambassador, Farsi language teacher, Oakville Big Brothers/Big Sisters, referee/coach for youth soccer, Oakville Police youth advisory committee, Oakville Food Drive, Bronte Creek neighbourhood clean-up, Kerr Street Mission, and many others.
Sarah Syed, 17, North York
Sarah has amassed over 1,000 volunteer hours and is passionate about giving back to her community. Initially in elementary school, helping students and teachers in the classroom, she expanded her volunteering by supporting vulnerable members within her community, by helping prepare Ramadan Dinners at her mosque.
Sarah developed a passion for humanitarian and environmental work through the University Leadership Program at her school where she is an Events Lead that organizes and facilitates new clubs, trips and fundraisers. She volunteers at Ecoambassadeur preparing materials (campaign letters/brochures) for an equity and diversity campaign for workplaces. She is the committee Co-chair and Accessible Housing Network Social Media Coordinator at the AEBC Toronto chapter and has organized fundraising trivia events to support the program.
She is active in environmental sustainability as co-editor of the Green Neighbours Network monthly newsletter and an idea leader for Youth in Action. She has developed prototypes of life changing innovations. Sarah has won numerous Science Fair awards, a Top 25 Under 25 Environmentalist Award and the Nature Inspirations Finalist award.
Jaylynn Wolfe, 14, Kincardine
Jaylynn is proud to share her native Ojibway heritage with the community. At a young age, she learned of the Missing and Murdered Indigenous Women and Girls (MMIWG), which troubled her deeply, and moved forward in raising awareness for the MMIWG. She was a keynote speaker on the subject at the Unity Gathering at Kettle and Stoney Point First Nation.
Her most recent and significant project is The Ribbon Skirt Project, setting out to make ribbon skirt kits. Through donations and volunteers, the project was able to make more than 215 ribbon skirts gifted to youth on her First Nation of Kettle and Stony Point.
She received the Young Woman of Distinction Award in March 2018, the Remarkable Citizen of the Year Award in 2020, and the Inclusiveness and Diversity Award in 2021.
Alexa Yeo, 12, Goderich
Alexa is a musician and harpist who uses her talents to raise money to support local charities. She uses her music to help better her community. In 2020, she wrote a song dedicated to frontline and essential workers and enlisted over 50 Ontario children to say thank you for the workers' dedication and bravery. That video was featured on CTV National News. She also wrote and performed an original song for a local hospice telethon, alongside other artists, which raised over $100,000 for the cause.
Her many other music and art-related community service activities have helped raise funds for worthwhile local organizations in her community and beyond.
Laiba & Manha Yusuf, 9 & 10, Newmarket
Sisters Laiba and Manha have proven that you can make a difference in your community no matter your age.
Laiba started her "Kindness For Buddies" campaign, to raise awareness of good deeds and spread kindness through fundraisers to collect financial and in-kind donations, empowering abused women and children, youth and homeless, and patients receiving mental health treatment. She also initiated three free programs addressing Covid-19 challenges: free tutoring, free access to reading resources, and free delivery of food to families in need.
Manha started her 'Stamp Out Stigma for Mental Health" campaign to raise awareness and reduce the stigma around mental health through fundraisers. She recognizes the needs of the community and works on making a positive change through in-kind donation drives and fundraisers of those facing hardship, poverty, homelessness and mental health issues.
Both sisters are involved in many other community fundraisers as well, including Back to School, Young Mothers at Rose of Sharon, Inn From the Cold, SickKids, and the Children's Aid Society, helping to raise thousands of dollars over the past three years, leading to several community awards.
The Ontario Junior Citizen Awards are promoted through the OCNA. Nominations of eligible youth aged six to 17, are received through 215 community newspaper members committed to recognizing the young leaders who are making a difference in their communities. Nominees may be involved in community service, are contributing to their community while living with a physical or psychological limitation, individuals who have performed acts of heroism or bravery, or those who achieve excellence in personal achievement. Candidates are also recognized for being 'good kids' who go above and beyond what is expected of their age and show a commitment to making life better for others. A panel of judges unanimously agreed on the final award recipients.


2021 Ontario Junior Citizen Awards
Celebrate the best of your community!
Help us recognize the incredible determination, imagination, and spirit of outstanding young citizens between the ages of 6-17 who are bettering our communities. If you know someone who is involved in worthwhile community service, is contributing while living with a limitation, has performed an heroic act, demonstrates individual excellence, or is going above and beyond to help others, then please nominate them for an Ontario Junior Citizen Award.
Deadline for nominations: February 11, 2022
Nominees may be involved in

worthwhile community service;
special young people who are contributing while living with a physical or psychological limitation;
individuals who have performed acts of heroism or bravery in the past year;
excellence in personal achievements
recipients may also be 'good kids' who show a commitment to make life better for others and do more than is normally expected of someone their age.

Eligibility

Any resident of Ontario, aged six to 17 years (must be at least six years, but no older than 17 years by the February 11th deadline), is eligible to receive an Ontario Junior Citizen Award.

Only individuals may be nominated.
A committee of newspaper editors and publishers will then select up to 12 individual award winners.

Every nominee will receive a certificate of recognition, and the final recipients will be invited to a special ceremony in the Spring.
The Ontario Junior Citizen Awards are a public service of your community newspaper.
Almost five million Ontario households receive a paper published by a member of the Ontario Community Newspapers Association. The Association acts on behalf of its members to help them better serve their communities.

Each submission must include at least two supporting nominations.
Parents/Guardians must sign to acknowledge the PIPEDA policy.
Nomination forms are available for download below and from your local community newspaper.
Nomination Forms
| | |
| --- | --- |
| English | |
| French | |
| PIPEDA | |
| Separate Parent Signature Form | |
| Return completed nomination form to: | Email: jr.citizen@ocna.org |
2019 Ontario Junior Citizen Award Final Recipients Announced
In today's fast-paced society, filled with technology and distractions, there are young leaders across the Province who are taking advantage of the resources available and using them to make a difference within their communities. Rather than staying at home to watch Netflix or YouTube, they are volunteering their time to charities and organizations. They are utilizing their experience with social media, and their knowledge of the Internet, to connect with others on issues they feel strongly about. They are jumping into activism. They are taking control. And they are proving that age is just a number, and that one is never too young to make an impact.
The 12 young men and women listed below ranging in age from 10 to 17, have worked hard in various ways to create awareness or raise funds for causes close to their hearts. They have demonstrated creativity and generosity to inspire others. Which is why the Ontario Community Newspapers Association (OCNA) is proud to recognize them as 2019 Ontario Junior Citizens. The 12 finalists will be invited to receive their award during a special ceremony on Friday, April 3, 2020. The OCNA, along with its 240 members, is looking forward to celebrating their achievements.
The 2019 Ontario Junior Citizens listed in alphabetical order:
Mikayla Ansley, 12, Blyth
As a survivor of bilateral retinoblastoma, Mikayla had to undergo chemotherapy (on top of 55 operations) in the first few years of her life. As a result, her left eye was removed and she lost most of the vision in her right, becoming legally blind at the age of two. And while it has been an adjustment living with limited sight, Mikayla has remained positive and focused on advocating for kindness.
Last year, her essay titled 'Kindness Matters' was awarded the Grand Prize and worldwide recognition for the Lion's Club International's Peace Essay competition. The achievement earned her the opportunity to speak to 1,500 Lion dignitaries from all over the world at the United Nations in Manhattan. In her essay she notes that she is so thankful to everyone that supported her family during dark times, which is why she is on a mission to make the world a little brighter for everyone. Whether it's a smile at a stranger, or a contribution to a fundraiser, she believes kindness matters more than we know.
To celebrate her accomplishments, her home municipality of North Huron proclaimed April 14, 2019 as Mikayla Ansley Day. The festivity included a special event, through which hundreds of dollars and dozens of pounds of food were collected for a local food bank.
Cameron Cadarette, 15, Windsor
At the age of 12, Cameron created a non-profit organization called 'Project Teal'. Its purpose is to bring awareness to First Responders and veterans that live with PTSD. The organization connects others with resources in their communities, including therapy, physicians, government services or outreach groups. But most importantly, it provides an open line for communication.
Cameron himself lives with PTSD as a result of childhood abuse and relies on the support of his Service Dog, Vince. He is using his own experience with the disorder to show others that having PTSD doesn't make someone any less of a person.
A side project of his is called the 'Life Pack Program'. Four times a year, Cameron collects toiletries, clothing, sleeping bags, and non-perishable food items for the homeless population in his city. He packs the items into backpacks, along with a breakfast, and delivers them himself to anyone in need. To date he has assembled and delivered more than 5,000 bags.
Lincoln Dugas-Nishisato, 10, Toronto
Since Lincoln was five years old, he has learned the power one person has to change another's day, and it has become a passion of his to make the world a better place.
Last February he helped sort and pack thousands of pounds of hockey gear to be sent to children in First Nations communities. In addition, he has helped deliver backpacks filled with supplies for kids in need at local shelters and outreach programs, and sorted sanitary products for low income women through the Period Purse initiative. His impressive list of volunteer contributions also includes manning the Salvation Army Christmas kettle, preparing bags of nutritious meals through Kids Against Hunger, and sorting donations received by the Salvation Army's Toy Mountain project. Most notable, however, is his effort to raise the largest amount by any individual (more than $2,000 per year for three years) for Haven On The Queensway's Coldest Night of the Year event.
Daphné Dupuis, 17, Sault Ste. Marie
Last spring, in an effort to increase organ donation awareness among teens, Daphné spearheaded the 'Don8Life' campaign. It targets those who are turning 16 and therefore will soon be eligible to register as donors. She approached three local driver's education schools, asking if they would consider implementing organ donation awareness in their curriculum. Successful in her pitch, she has been speaking bi-weekly during driver's ed classes about the importance of registering.
Upon discovering that 4500 people in Canada are on the organ-donation waitlist, with only 27% of Canadians registered to be donors, Daphné became determined to improve these statistics. Her goal is to encourage 100 youth donors, which could result in 800 lives potentially being saved.
Islay Graham, 14, Georgian Bluffs
In 2017, the town of South Bruce Peninsula used a bulldozer and other heavy equipment to remove vegetation from Sauble Beach in order to make it more appealing for visitors. As a result, the Great Lakes Piping Plover, an endangered species of shorebird, was affected. As of 2019, only 75 nesting pairs of Piping Plovers could be found throughout the entire Great Lakes regions, with only six pairs left in Ontario.
The city claimed that Piping Plovers preferred a 'clean beach' and argued they did nothing wrong. Disagreeing with their statement, Islay took it upon herself to investigate whether this was true. She launched several research studies, which included analyzing current nests, examining historical nests, and tracking the habits of the Piping Plovers and their chicks over the course of four weeks. This included observing them at 15 minutes intervals every hour throughout a day for four weeks. From her careful observations, she was able to conclude that the species DO NOT prefer a clean beach. In fact, over half of the bird's day was spent along the high-water mark where driftwood and reeds settle.
Islay turned her investigation into a Science Fair project, which won her a Platinum Award as the Best Junior Science Project in Canada.
Helena Kirk, 14, Toronto
When Helena was just three years old, she endured 841 days of chemotherapy and 650 procedures to beat Leukemia. It was during her journey that she learned about inequitable access to childhood cancer treatment in Canada, and how a tragic number of kids are dying as a result.
In 2018 she founded Helena's Hope, an advocacy group with a mission to create a National Childhood Cancer Strategy. She managed to rally over 150 families dealing with childhood cancer across the country, and received signatures from over 30 cancer organizations and 30 pediatric oncologists for a budget proposal. As a result, the Liberal government recently committed $30 million in funding for childhood cancer research.
Spencer Lippa, 12, Halton Hills
Spencer has been actively promoting civic action and democratic participation since October 2017 when he became the youngest member of a federal political party. He was permitted into the party by a special motion from the party leader in acknowledgment of his tremendous commitment.
Spencer is worried about climate change and believes political institutions and organizations have the greatest potential to create change. As a result, he has spoken on behalf of a motion declaring a climate emergency at the municipal level. He was an active participant in Guelph at the New Green Deal Town Hall and has delivered nearly a dozen speeches to crowds of people, calling for action. He participated in many climate strikes, and finally, he has worked on behalf of the Concerned Residents' Coalition to stop the Hidden Quarry since May of 2019.
Ethan Parikh, 16, Mississauga
Over the Spring and Summer of 2018, Ethan collected seven suitcases full of donated items, including soccer equipment, school supplies and toiletries, and travelled to Nairobi's Soweto slums to personally deliver them to school-aged children. He immersed himself in the lifestyle there, and it didn't take long before he realized that most of the kids did not wear shoes. He learned that this made them prime targets for jiggers, a debilitating skin infection caused by parasitic sand fleas.
The horrible reality inspired Ethan to take action and an innovative treatment campaign was established. The anti-jiggers campaign has three goals: to treat children with jiggers, to educate children and their families with prevention strategies, and to supply closed-toed shoes to those in need. These can all be accomplished for just $7 per child.
In March 2019, he delivered a TedX speech for the first student-led TedX Conference in Halton. He won $600 from his persuasive presentation, which was donated to his cause. With help from other organizations, he has raised over $2,000 towards his anti-jiggers campaign and helped more than 280 children.
Lazar Paroski, 15, Kitchener
At the age of 13, Lazar applied for a City of Kitchener Love My Hood placemaking grant to build a Math Wall and accessible table at a local park. He hopes these additions will improve standardized math testing scores, recognizing that the regional result was well below the provincial standard. He was successful in his efforts and awarded the grant, with a 6-month timeline to complete the project. Getting to work right away, he led group consultations and compiled feedback from 462 children to determine what should appear on the Math Wall. After which, he worked with a graphic designer to create the visual elements.
Grand opening for the Math Wall sparked much interest from various groups and organizations in the community. He addressed an audience of over 100 adult professionals in the field of youth development as Keynote speaker of the Parks and Recreation, MBA 2019 Symposium. He also recently emceed the 2019 City of Kitchener Neighbourhood summit, engaging an audience of residents, council members and staff.
Christopher Pennington, 15, Kincardine
Christopher has been involved with the Kidney Foundation of Canada since 2015, shortly after he was diagnosed with the autoimmune disorder Henoch-Schonlein Purpura (HSP), which can cause chronic kidney disease. Rather than letting the illness get him down, Christopher has become a spokesperson. Keen to find a cure, he has been dedicated to raising awareness in his community and rally others to help support research Kidney disease, which now affects 1 in 10 Canadians.
He was the honourary chair of the first Owen Sound Kidney Walk that year and the following year, and later helped found the Goderich Kidney Walk. In 2018 he began an online auction, which has attracted 180 business over the course of two years. This year he was able to secure a Toronto Maple Leafs jersey signed by Mitch Marner.
Since first becoming involved with the foundation, Christopher and his crew have raised over $60,000 to support research. In 2016, Christopher's Crew (a group of community members that he has recruited) was ranked fifth in the province for total donations raised.
Galiya Vendrov, 16, Whitchurch-Stouffville
When Galiya was just 14 years old, she founded the youth organization called Youth of Canada (www.youthofcanada.ca). Its three main missions are to inspire, empower and enrich Canadian youth. The website includes a multitude of resources and opportunities, including extracurricular experiences from exchanges, to scholarships, volunteer opportunities, and international tournaments and competitions.
Two sections on the site are highlighted. The Youth Blog's Mental Health Awareness Week invited young people to share their experiences and perspectives of mental wellbeing, to show others that they are supported and understood. And the Student Spotlight showcases accomplishments of amazing youth. Published stories include a profile on a teenage tech CEO, a professional wakeboarder, a published author, and others between the ages of 14 and 24 that have the capability to spark inspiration in others.
Lucy Zhao, 17, Richmond Hill
Reflecting on her time spent one summer serving low-income families at her local food bank, Lucy launched the first-ever Community Service Project with her school's DECA chapter to target food insecurity. She founded LiveFresh, a health and wellness event and partnered with the York Region Food Network to engage over 100 club members in sustainable community gardening and affordable healthy eating.
Last April she co-founded BLOOM, a social justice initiative dedicated to empowering women and children struggling with domestic abuse. She's currently leading a team of 15 individuals in the GTA and organizing an arts showcase event, which will take place this March, with hopes of raising $2,000 for Yellow Brick House, a local women's shelter. She has spent many, many hours volunteering her time with the shelter, but became frustrated and disheartened by the quality of donations that were received. She's hoping her efforts with BLOOM will change the idea that "to donate" should not just be about giving items that are no longer wanted, but rather a conscious decision to lend some support.
The Ontario Junior Citizen Awards are promoted through the OCNA. Nominations of eligible youth aged six to 17, are received through 240 community newspaper members committed to recognizing the young leaders who are making a difference in their communities. Nominees may be involved in community service, are contributing to their community while living with a physical or psychological limitation, individuals who have performed acts of heroism or bravery, or those who achieve excellence in personal achievement. Candidates are also recognized for being 'good kids' who go above and beyond what is expected of their age and show a commitment to making life better for others. A panel of judges unanimously agreed on the final award recipients.
---




2018 Ontario Junior Citizen Award Finalists Recognized
On Monday, March 18th the Ontario Community Newspapers Association (OCNA), hosted the 38th annual Ontario Junior Citizen Awards on the 54th floor of the TD Tower. Thirteen outstanding youth from across Ontario were recognized in front of family and friends for their inspiring community involvement. The Honourable Elizabeth Dowdeswell, Lieutenant Governor of Ontario, attended as congratulator-in-chief.
The OCNA would like to thank its member newspapers and corporate sponsor TD Bank Group for support in recognizing tomorrow's leaders.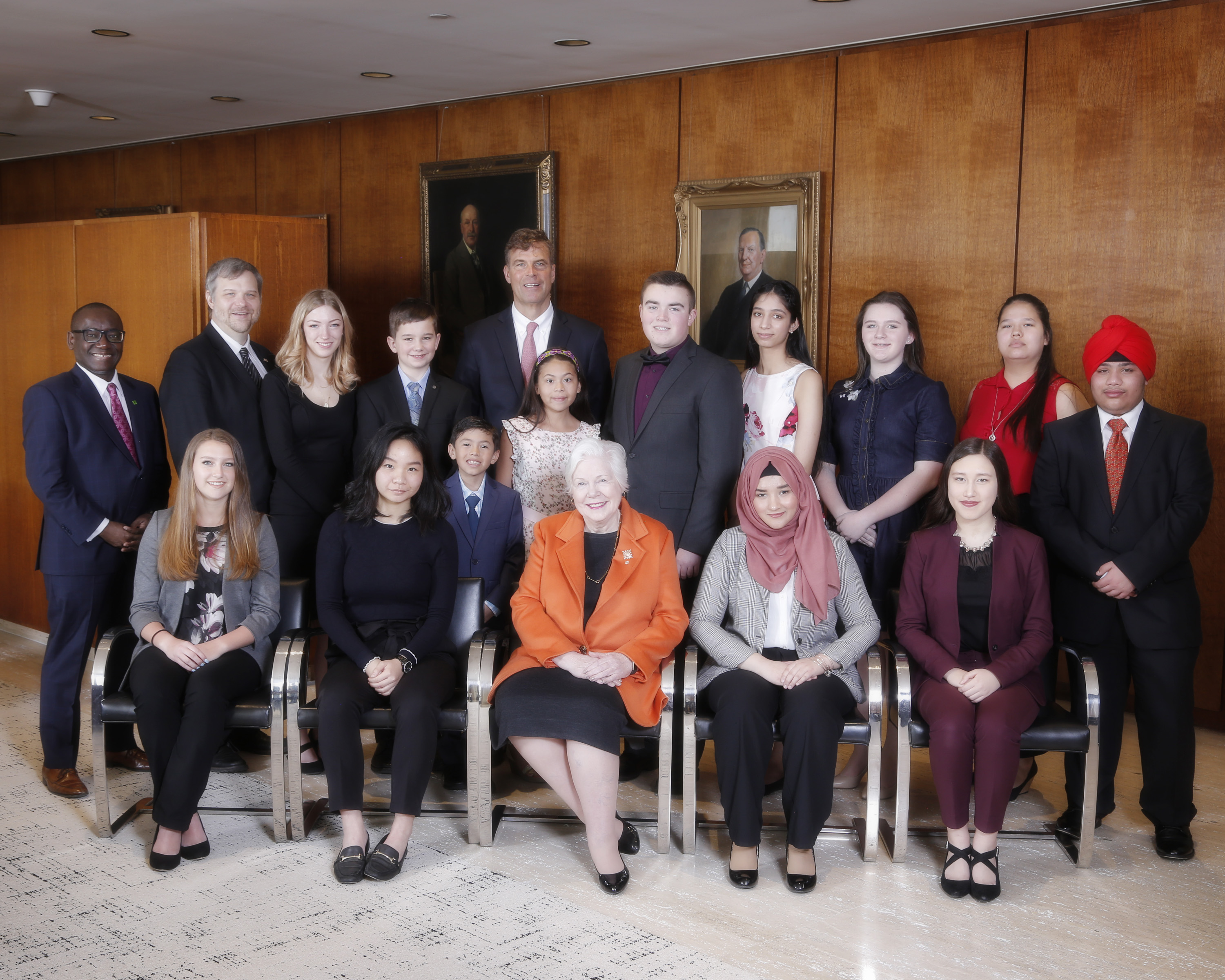 Top from left to right: Gary Clement, Director, Government Relations, TD Bank Group; Gordon Cameron, OCNA Treasurer; Morgan Burke, 16, Haliburton; Jacob Taylor, 11, Metcalfe; Ray Stanton, OCNA President; Andrew Poirier, 14, York (Haldimand County); Guramrit Thandi, 16, Brampton; Zara Belanger-Pepper, 13, Chatham; Chyler Sewell, 16, Hamilton; Karanjot Bhatia, 14, Brampton.
Middle from left to right: Nathan Hart, 9, Ajax; Mya Hart, 10, Ajax.
Bottom from left to right: Vanessa Morris, 17, Chelmsford; Racheal Ou, 17, Scarborough; the Honourable Elizabeth Dowdeswell, Lieutenant Governor of Ontario; Iman Berry, 17, Windsor; Taylor Dallin, 16, Toronto.
The 2018 Ontario Junior Citizens listed in alphabetical order:
Zara Belanger-Pepper, 13, Chatham
Losing a loved one at the age of eight can be life altering. But Zara managed to focus her grief and attention on to something more positive. She wrote about her experience of losing her father to suicide and produced a book titled "What Have I Learned" to help others heal from loss. The illustrated publication, launched during Suicide Prevention Awareness Month in 2017, talks about family, confidence, grief and expressing yourself. Since then she has spoken publicly in front of many organizations and donated printed copies of her book to the Canadian Mental Health's Grief Works Program, VON Kids Circle Program. But most importantly, she wanted her message to be available to everyone, so the publication can be downloaded online for free. See it here: https://snownet.ca/zara/.
Iman Berry, 17, Windsor
In 2018, Iman founded "Youth Collective" and ran a project that connected Canadian students to refugees with hopes to increase cultural awareness and make newcomers feel more comfortable. She was also a Windsor Youth Consultation Organizer for Canada's first ever Youth Policy. In this role, Iman worked alongside the Prime Minister's Privy Council to collect information from youth in Windsor.
As if she didn't have enough on the go already, Iman was one of 20 Canadian delegates selected to participate in an Economic Trade Mission to China. She is a Windsor Essex Regional Youth Council member, a Windsor Islamic Association Board contributor, a Rotary Club Peace and Conflict Committee member and an Ontario Student Trustee Association Advocacy Committee member. In addition, she organized a "Music for Mental Health" charity community concert and raised $2,900 for the Canadian Mental Health Association.
Karanjot Bhatia, 14, Brampton
Karanjot lives with Cerebral Palsy but he does not let it be an obstacle in his pursuit of making a difference within his community. He volunteers his time at ErinoakKids where he shares his passion for robotics and STEM with other physically challenged children. He helps organize recreational trips for the elderly through the Guru Gobind Singh Children's Foundation and has dedicated time to the Seva Food Bank in Malton as a personal shopper for families in need. In addition, Karanjot is a regular volunteer at a local Gurudwara on Saturdays and Sundays serving food and washing . He also recently participated in the Brampton 2040 Vision Youth Symposium and presented an implementation strategy based on public engagement, collaboration, design, technology, and identity to a panel of judges. His ideas earned him 2nd place out of 250 students that attended the day-long workshop.
Morgan Burke, 16, Haliburton
At just 15 years of age, Morgan decided to start her own business combining her love of nature with her desire to provide a valuable product and service. Her goal? To develop a line of products using honey bees as a resource. She took courses at Trent University to learn about the process of raising bees and successfully applied for a grant through the Kawartha Summer Company Development program. She became a regular face at local summer markets and has even participated in the Royal Winter Fair in Toronto where she received awards for best customer service and best booth display. A year into her entrepreneurship, Morgan began looking for ways to share the success of her business with her community. The "Bee'cause We Care" initiative was born last summer with honey bottled in branded jars supporting Haliburton Highlands Health Services. She has contributed over $1,200 to the organization, all while maintaining honour roll as a grade 11 student.
Taylor Dallin, 16, Toronto
Taylor's countless contributions began when she was in grade 6 and spoke at a public hearing to stop the destruction of trees in her neighbourhood. She was the youngest in attendance. This act of leadership and drive only fueled her fire, as she then went on to become Head Prefect of her school's Student Council and was selected to be a page for the Legislative Assembly of Ontario. A couple of years later she became an Ambassador for Model City Hall, a non-profit organization with a mission to make municipal politics more accessible for youth, of which she is now Co-Chair. She was the Community Engagement Lead for a youth-led environmental organization called Global Figure and held the role of Student Bill of Rights Ambassador for the Federation of Canadian Secondary Students. In addition, she has helped with the Canadian Cancer Society's daffodil sales and the RBC Race for the Kids. These are just some examples of the organizations to which Taylor has dedicated more than 885 community hours.
Mya + Nathan Hart, 10 + 9, Ajax
In early 2017, Mya and Nathan helped musician Feist deliver backpacks to children and teens living with AIDS in Malawi. Collectively the siblings gathered 562 backpacks, which would be used to carry medications to and from school. That same year, they decided to spearhead a similar initiative to help those within their own community. They began working with Durham Regional Victim Services and collected 200 flashlights, 200 tubes of toothpaste, 150 toothbrushes, deodorants, soaps, and an additional 100 backpacks.
Seeking other ways to show leadership and make a difference, the two decided to launch a recycling campaign with a mission to educate their peers about the various school supplies that can be recycled so they do not end up in landfills. These items include mechanical pencils, pens, markers and highlighters. They have created recycling bins with easy to follow instructions, which have been placed in classrooms within their school and are encouraging others to be eco-friendlier.
Vanessa Morris, 17, Chelmsford
Vanessa is an exceptional student and leader, maintaining a 92% average and accumulating over 400 hours worth of community service during her first two years of high school alone. She served as a legislative page when she was 13 years old and enriched her knowledge of politics. Since then she has taken on the role of Youth Advisor on the first ever North East Local Health Integration Network (LHIN) Patient and Family Advisory Committee and attends regular meetings weighing in on best practices to service patients and their families. Furthermore, she has crochet "granny squares" and made blankets to help keep cancer patients warm during treatment.
In addition, she was selected to participate in SHAD's 2018 summer enrichment program, is a student representative on the Conseil Scolaire Catholique du Nouvel-Ontario sectorial tables, and a spends her spare time as a teacher/mentor for the TaeKwonDo Club in her community.
Racheal Ou, 17, Scarborough
Racheal regularly volunteers with Chatting to Wellness, a weekly senior's program for those with disabilities who need company and conversation. It's here that she came up with the DREAM program, which stands for "DRop Everything And Meditate" and encourages positive attributions. With a continued desire to improve mental health, she has found additional outlets to do so. For example, after attending Harvard University last summer to study Epidemiology and Statistical Programming, she produced a scientific paper that outlines the relationship between depression and marijuana consumption.
In addition, Racheal is founder of "The Youth Projector", a non-profit organization that caters to voicing the issues of youth in her community. She is president of the Toronto Youth Environmental Council and promotes environmental activism, an executive member of Sustainable Youth Canada, sits on the Toronto District School Board Student Senate, and is actively involved in many extracurricular activities within her school.
Andrew Poirier, 14, York (Haldimand County)
Andrew has been involved with Wounded Warriors Canada since he was just nine years old. He currently builds and sells birdhouses made from upcycled wood and old license plates to collect funds for therapy dogs for veterans with PTSD. Through this initiative he has donated more than $8,000. Additionally, Andrew has a strong passion for promoting inclusivity. As a result, he has gained permission from his school and is working on organizing its first Mental Wellness Day. He has volunteered his time for several years with the Knights of Columbus, providing support to families with medically fragile children and spends every other Saturday with the Good Shepherd in Hamilton serving meals. He has accomplished all this with determination and resilience while living with juvenile arthritis.
Chyler Sewell, 16, Hamilton
Chyler showed interest in the Neighbour-2-Neighbour Hamilton Community Food Centre when it first came into existence two years ago. Since inception she has volunteered every Wednesday afternoon as a teen lead in the Kids Club After School Program. Her experience at the food centre inspired her to join Eco Ninjas, an after-school club of students who care about the environment and encourage others to become involved in various activities including gardening, advocating for solar panels, and managing recycling or compost need of the school.
Last year she was selected to travel to Pangnirtung, an Inuit hamlet, Qikiqtaaluk Region in Nunavut. She was chosen to represent her Anishnaabek community, about which she is passionate. She recognizes that the traditions of her First Nations heritage are at risk as the elders pass away. As an aspiring writer, she understands the urgency of recording this information for future generations and has been doing so with help from her mother to preserve her community's rich histories.
Jacob Taylor, 11, Metcalfe
At just 11 years old, Jacob is involved in many community groups and has proven to be a role model and inspiration for young generations. In addition to running a monthly Kindness Club at a local seniors home, he is a Metcalfe Community Association Youth Ambassadors Junior Assistant to the Manager of his community's local farmers market. Last year he organized a collection campaign within his school to donate warm socks to the homeless in Ottawa and continues to help organize an annual toy drive to collect items for a local women's shelter.
Notably, he became the youngest member to join the Metcalfe Community Association after convincing them to change the Bylaws stating only adults could join. He has since been appointed Youth Ambassador and attends monthly meetings and various community events.
Guramrit Thandi, 16, Brampton
Guramrit is founder of the "Heart Attack Campaign" and is on a mission to educate the elderly about the symptoms and effects of a heart attack. She recognized the lack of counselling services for cardiovascular health and decided to take action. She travels to senior homes across the GTA and leads informational sessions for residents. It has grown to become an official organization within her school with over 60 members contributing through various roles. Furthermore, Guramrit is executive director of her school's PETA club, president of the Aspiring Medical Professionals club, senior representative of the Science Club, a member of Student Council and a member of the volleyball, track, cross-country and badminton teams.
The Ontario Junior Citizen Awards are promoted through the OCNA. Nominations of eligible youth aged six to 17, are received through 240 community newspaper members committed to recognizing the young leaders who are making a difference in their communities. Nominees may be involved in community service, are contributing to their community while living with a physical or psychological limitation, individuals who have performed acts of heroism or bravery, or those who achieve excellence in personal achievement. Candidates are also recognized for being 'good kids' who go above and beyond what is expected of their age and show a commitment to making life better for others. A panel of judges unanimously agreed on the final award recipients.
Our Sponsor
Our goal to recognize outstanding young people in communities across Ontario would not be possible without the generous support of our corporate sponsor, TD Bank Group.

---


2017 Ontario Junior Citizens Recognized
On Monday, March 5, the Ontario Community Newspapers Association (OCNA), hosted the 37th annual Ontario Junior Citizen Awards on the 54th floor of the TD Tower. Twelve outstanding youth from across Ontario were recognized in front of family and friends for their inspiring community involvement. The Honourable Elizabeth Dowdeswell, Lieutenant Governor of Ontario, attended as congratulator-in-chief.
Recipients were delighted to also meet Premier Kathleen Wynne on the grand staircase of the Legislative Building after a tour of Queen's Park.
The OCNA would like to thank its member newspapers and corporate sponsor TD Bank Group for continued support in recognizing tomorrow's leaders.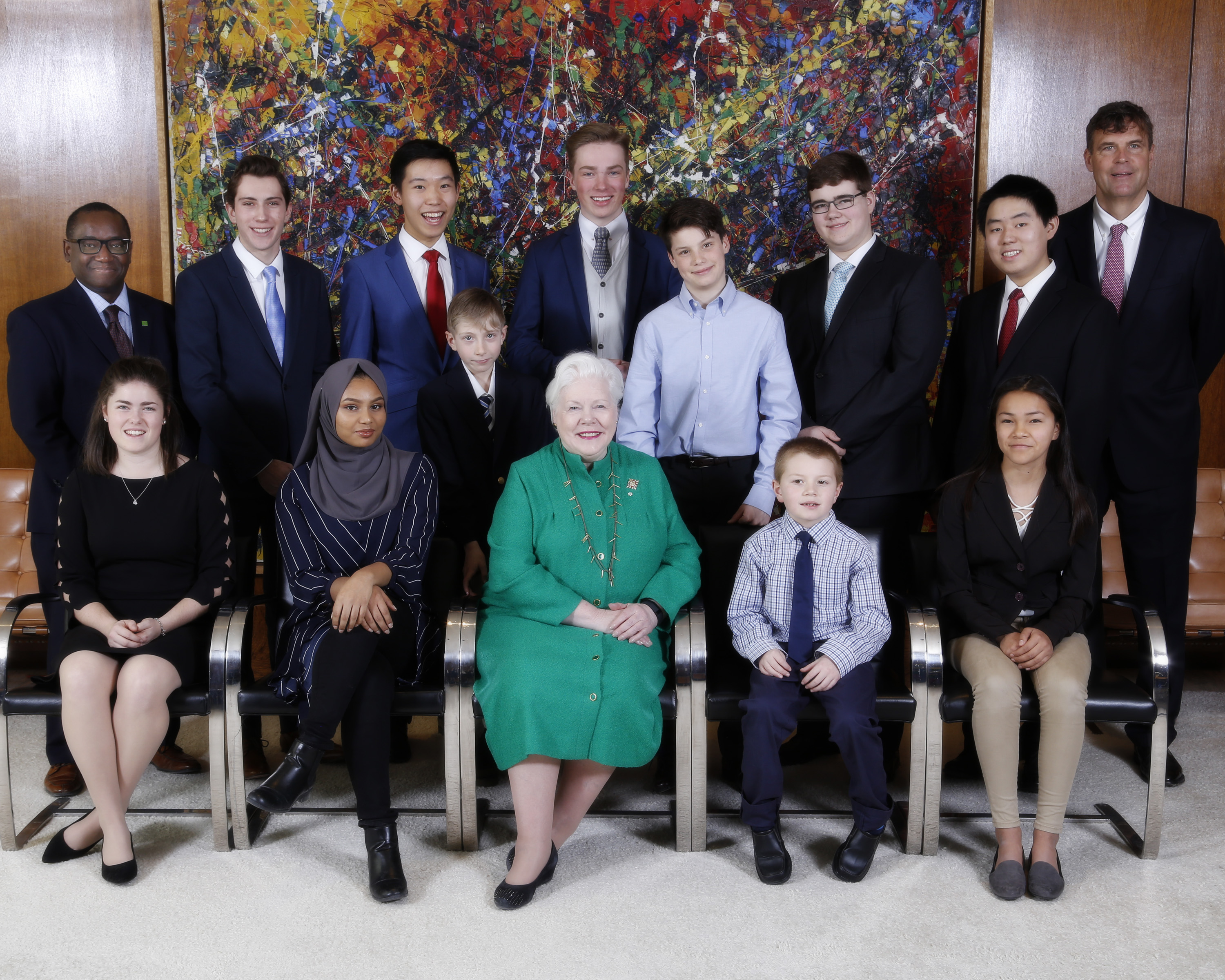 Top from left to right: Gary Clement, Senior Manager, Government Relations, TD Bank Group; Graham Beer, 17, Cobourg; Frank Hong, 16, North York; James Potvin, 9, Whitby; Lucas Gordon, 16, Ancaster; Ramsay Jackson, 13, Greensville; William McCormick, 16, Sudbury; Daniel Zhang, 16, Scarborough; Ray Stanton, OCNA President.
Bottom from left to right: Holly Tetzlaff, 17, Trenton; Subrana Rahman, 17, Toronto; the Honourable Elizabeth Dowdeswell, Lieutenant Governor of Ontario; John Perry, 8, Collingwood; Autumn Peltier, 13, Wikwemikong First Nation.
---
2017 Ontario Junior Citizens Announced
The 2017 Ontario Junior Citizen Finalists have been selected and will be recognized by OCNA member newspapers for their outstanding achievements. The 12 individuals are future leaders making conscious efforts to see change in society and are working hard to make a difference both locally and globally. Although very different and unique, they all share one aspect in common - they are all truly inspiring, and their stories illustrate creativity, determination and generosity.
These final recipients and their families will be invited to a special ceremony in Toronto to receive their award.
The 2017 Ontario Junior Citizens, listed in alphabetical order:
Graham Beer, 17, Cobourg
Graham is Executive Producer and Host for Cobourg Media, an online news and multimedia business he launched at the age of 12 with a complete studio set up in his basement. He has videotaped and reported hundreds of events within his community, proving to be an ambassador and strong supporter for various organizations and fundraising events including Walk a Mile in Her Shoes and Ribfest Harvest Festival. Through his Cobourg Media Christmas Specials, he has raised over $6,000 for the Salvation Army and Northumberland Food Share. His passion for journalism has led to many great opportunities, including a segment on CityTV covering Vimy Ridge's 100th Anniversary from France. He believes "it only takes one decision to make a difference that can empower others to make a substantial impact that can last a lifetime".
Marcus Deans, 16, Windsor
Marcus' many contributions include extra-curricular activities within his school and community, as well as personal achievements in science research. As Vice-Chair of the Young Philanthropists, he has helped raise $7,000 and presented grants to low-income schools and community organizations within the city of Windsor. His involvement as Co-President of his school's Student Council helped collect 10,000 cans (from a school of fewer than 150 students) to help feed hungry and less fortunate people at the Downtown Mission.
Marcus is also a STEM enthusiast and his $2 water filter for developing counties, the 'NOGOS', won best Junior Prize at the Canada-Wide Science Fair in 2015. More recently, he concluded research on inhibitors of the Zika Virus and identified 14 compounds with high potential for stopping the dangerous disease.
Lucas Gordon, 16, Ancaster
Five years ago, Lucas poured his love of Halloween into a fundraising initiative and transformed his parent's garage into a haunted house, encouraging visitors to donate one non-perishable food item as admission. The charitable movement saw more than 600 guests in its first year and collected more than 250 pounds of non-perishable items for a local food bank.
Just a couple of years ago he founded a company called RedReach, which is an online job posting and application platform, specifically for youth employment. RedReach has partnered with McMaster University, and has been accepted into the McMaster Startup Business Incubator, The Forge, making Lucas the youngest person to have been accepted into the business incubator. In addition, among many other notable contributions on his resume, Lucas also recently joined Plan International Canada's I AM A Girl National Speakers Bureau as a Public Speaker, and advocates for female rights.
Frank Hong, 16, North York
Frank has been volunteering with his local constituency since he was just nine years old. During the 2015 Federal Election campaign he was voted as one of the Liberal Party's youngest Community Team Leaders. His extensive work in politics and advocacy landed him a spot on MUCH's first youth digital series, SIDES*. As a panelist on the show, Frank discusses current events and issues with an intelligent, thoughtful and moderate perspective.
Just a couple of Frank's noteworthy achievements include holding the position of Vice President of the Toronto District School Board's Super Council, representing over 250,000 students, and helping coordinate many city-wide events. In addition, a first-place finish at the HOSA International Leadership Conference and a team-effort invention of the Epi-Strip (a more effective, painless method for delivering epinephrine doses) earned Frank the position of National Officer at HOSA Canada.
Ramsay Jackson, 13, Greensville
Ramsay is a hero. His courage and noble qualities essentially saved a Life Skills Class from being dismantled. His school was slated for amalgamation, and an original plan saw the Life Skills Program being terminated, with intent to disperse special needs students throughout the school board. Ramsay recognized a need to advocate for those who, he felt, didn't have a voice, and took it upon himself to create a petition called 'Keep Us Together'. He single-handedly collected more than 120 signatures at the small, rural school. His determination and strong moral compass had an impact and helped reverse the school board's intentions, ensuring the Life Skills Class remained intact for the future.
William McCormick, 16, Sudbury
Since becoming a member of the Chief's Youth Advisory Council last year, William has been an active leader and helped organize a Crime Prevention Conference where he spoke about the positive impact volunteering can have on youth. Volunteerism is something William has practiced for many years, donating his time to a local food bank, nursing home, Big Brothers Big Sisters, Learning Disabilities Association and St. John Ambulance since the age of 10.
Most notably, however, William founded a national initiative called 'Service Not Forgotten', which provides personal support to homeless veterans in the form of backpacks filled with personal items. More than 5,000 items have been collected and donated to shelters across the country. The organization also raises awareness for the issue
Autumn Peltier, 13, Wikwemikong First Nation
At just 13 years old, Autumn is a role model and veteran activist. She is proud to be Indigenous and feels very passionate about preserving the environment and creating awareness for the importance of clean drinking water. She was one of two youth advocates chosen to represent Canada during the 2015 Children's Climate Conference in Sweden, and during the 2016 Winter Meeting of Canada's Premiers in Vancouver, she addressed her concerns directly to Prime Minister Justin Trudeau. Autumn recognizes that water is the lifeblood of Mother Earth and it needs to be protected. Through traditional water ceremonies and speeches across the country, Autumn is helping to "make the world a better place for kids that come after her".
John Perry, 8, Collingwood
Despite challenges living with Cerebral Palsy and Epilepsy, John remains focused on helping others and creating more accessible programs for children with physical disabilities. He is actively involved with the Ontario Track 3 Ski Association, a ski program for children with mobility challenges. John's cookie sales have raised over $1,000 for the program to purchase specialized ski equipment, and as co-chair of the Disc Ability fundraising event, he has helped collect enough funds to install accessible washroom facilities. At just eight years old, John manages to approach each day with a positive attitude and inspires others to give back.
James Potvin, 9, Whitby
James had to overcome many social anxieties associated with Autism after he travelled 450km on a bicycle and raised $10,000 for the Grandview Children's Centre. The ride garnered much attention and he was invited to many major news networks, local newspapers and radio stations across the province for interviews. Although the ride was intended solely to benefit the not-for-profit treatment centre, James also helped raise awareness for Autism and became a role model for others – especially those with development disorders - proving that anyone can accomplish something if they put their mind to it.
Subrana Rahman, 17, Toronto
Subrana's community has experienced gun violence, theft and substance abuse, but despite (or perhaps because of this) she strives for excellence and works diligently to help those in need. She has contributed to Pathways to Education for the past three years and has been awarded Best Director for her efforts. She helps newcomers to Canada feel more at home, cooks for the homeless, makes shelter beds and feeds the mentally/physically disabled. In addition, Subrana is currently registered in the MaST (Math Science and Technology) program at the Danforth Collegiate and Technical Institute. She is thriving in the program and somehow finds the time to balance her academics, extracurricular activities, work, family and friends.
Holly Tetzlaff, 17, Trenton
Holly chooses to focus on issues that are important to her and manages to find ways to make them important to others. She is founder of the 'Red Fish Route Environmental Awareness Campaign', leading elementary students through hands-on experiments to raise awareness of disintegration rates of toilet paper vs. commonly flushed items. The program aims to develop environmentally-friendly habits. She has attended World Environmental Day as guest presenter and student panelist, and was an exhibitor at the Tri-County Children's Water Festival, which saw roughly 3,000 students attend.
In addition, she promotes peace through a global initiative she spearheaded called the 'Peace Crane Project'. Holly taught every student in her class how to fold an origami crane, which would each be accompanied by a letter explaining the project, a travel log to record its travels, and a request for the recipient to visit a symbol of peace in their community before sending it to someone else. Since then the entire student body, staff and administration have participated, and over the years, cranes from Holly's initiative have landed on almost every continent.
Daniel Zhang, 16, Scarborough
Daniel shows true dedication to his volunteer efforts, often travelling 1.5 hours to a hospital after school to help deliver meals. He has done so every week for the past few years and has consistently been involved in community activities since age eight. He spends his Saturdays playing the piano for recuperating patients to provide them with a soothing environment, and shows initiative and leadership skills that exemplify the good virtue of respectable citizenship. Additionally, Daniel demonstrates excellence in personal achievements academically and recently attended SHAD Summer Camp at the University of British Columbia, a competitive enrichment program in science, technology and entrepreneurship for gifted high school students from all over the world.
The Ontario Junior Citizen Awards are promoted through the 280 member newspapers of the Ontario Community Newspapers Association. Nominations of eligible youth aged six to 17, are received through member newspapers committed to recognizing the outstanding leaders who are making a difference in their communities. Nominees may be involved in community service, are young people who are contributing to their community while living with a physical or psychological limitation, or individuals who have performed acts of heroism or bravery. Candidates are also recognized for being 'good kids' who show a commitment to making life better for others. A panel of judges unanimously agreed on the final award recipients.
---
Updates on a few previous Ontario Junior Citizens:
Justin Hines, 1999 Ontario Junior Citizen, Stouffville, ON
Justin was recognized for applying his musical talents, and incredible optimism and spirit to support charities and help others, all while dealing with his own physical challenges.

Justin has since toured internationally, and is recognized worldwide for his advocacy. He continues to sing, write, and speak about hope and helping others, and received the Order of Ontario in 2014 for his charitable work and international success.



Annaleise Carr, 2012 and 2014 Ontario Junior Citizen, Simcoe, ON
At age 14, Annaleise was the youngest person to ever swim across Lake Ontario. Two years later, Annaleise swam across Lake Erie. Combined these efforts raised awareness and hundreds of thousands of dollars for Camp Trillium, a family camp for children with cancer.

Since then, her book, Annaleise Carr: How I Conquered Lake Ontario to Help Kids Battling Cancer has sold thousands of copies, and inspired many others to take on great challenges and help others.




Maya Burhanpurkar, 2010 Ontario Junior Citizen, Shanty Bay, ON
At age 11, Maya was an 'A' student who had already conducted her own research on plant-based antibiotics, donated her hair for wigs for children with cancer, and volunteered for a summer at a rural hospital in India.

Since then, Maya raised money for Haitian earthquake relief, received many humanitarian and science awards, and discovered the physical nature of a previously only theorized property in physics!



---

2016 Ontario Junior Citizens Honoured During a Special Ceremony
On Monday, March 20, the Honourable Elizabeth Dowdeswell, Lieutenant Governor of Ontario, hosted the 36th annual Ontario Junior Citizen Awards ceremony in her Suite at Queen's Park. Thirteen outstanding youth from across Ontario were recognized in front of family and friends for their inspiring community involvement.
Recipients were delighted to also meet Premier Kathleen Wynne on the grand staircase of the Legislative Building after the ceremony.
The Ontario Community Newspapers Association (OCNA) would like to thank corporate sponsor TD Bank Group and its member newspapers for continued support to recognize tomorrow's leaders.
Pictured top from left to right: Claire Jordan, 11, Toronto; Gordon Cameron, OCNA Past President and Group Managing Editor, Hamilton Community News; Sarah Jordan, 14, Toronto; Jack Mogus, 16, Oakville; Blaise Barber, 18, Hamilton; Brooklyn Lampi, 13, Kincardine; Dario Smagata-Bryan, 17, Welland; Veronica Chan, 17, Markham; Gary Clement, Senior Manager, Government Relations, TD Bank Group.
Pictured bottom from left to right: Nadine Carter, 13, Stouffville; Hira Waheed, 17, Hannon; Corbin Evans, 12, Brockville; the Honourable Elizabeth Dowdeswell, Lieutenant Governor of Ontario; Miranda Li, 17, Toronto; Sharon Lim, 16, Oakville; Mansimran Anand, 17, Brampton.