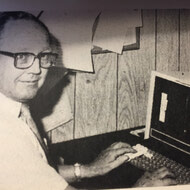 Donald George Spearman, Managing Editor, Leader Publications Ltd.
Donald George (Gummer) Spearman worked in the community newspaper industry in Ontario for approximately 45 years.
Born and raised in Dresden, he was hired in 1939, at the age of 17, as a reporter for the Dresden News, where he was eventually promoted to editor.
In the late 1950s, he spotted an advertisement in the London Free Press, placed by businessmen in Huron County looking for someone to start and run a community newspaper. The business group agreed to support the paper (called the Hensall Observer) with sufficient advertising for at least a year. Donald jumped at the opportunity. Unfortunately, when that year was up, ads dwindled, and the fortunes of the Observer declined.
In the early 60s, he returned to Dresden with his wife and children, and operated a printing plant called the Observer Press. His love of newspapers never left him.
In the 70s, he was hired as managing editor of Leader Publications, and as such, became editor of the North Kent Leader, a weekly newspaper in Dresden, as well as a string of agricultural newspapers serving five counties in Southwestern Ontario.
"Spearman hired me in March 1979 for a one-month work term that eventually became a summer job and then a full-time job," said Peter Epp. "I started work at Leader Publications on April 9, 1979. Today I serve as managing editor of the Chatham Daily News and the Sarnia Observer."
"Gummer was full of such wisdom," Peter wrote in a commemorative column in 2014. "For most of those 55 years that he had been hauling on a cigarette, two of his fingers had been flying over a typewriter, pecking away on keys to build a news story."
Suffering a serious loss of news for a small-town newspaper after the publisher burned bridges with a local funeral director who then refused to send obituaries, Donald took it upon himself to attend every funeral to report on the proceedings.
In addition, he covered local council meetings, meetings of the agricultural society, school board meetings, and more, because they all promised the possibility of a news story.
"Gummer got to know everyone in his small town and in the farms that surrounded that small town," wrote Peter. He once confided that not much happens in a small town, but what does happen is just as important as what happens in a big city. It's just as important to the residents, "Everyone has a story to tell," he once told me."
Donald retired from the business in 1986 but continued to write a weekly column until his passing in 1994.
This is why the Ontario Community Newspapers Association is thrilled to announce Donald George Spearman as an inductee of the OCNA Hall of Fame.
The OCNA Hall of Fame Award recognizes and celebrates individuals who have made exemplary contributions to Ontario's community newspapers. Inductees are respected community news professionals who have remained passionate about the industry throughout challenges, opportunities, and changes. They are leaders who have helped community newspapers adapt and grow.