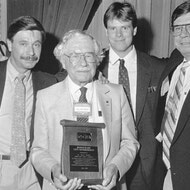 Jack, John, Robin and Jeff Morris
Editors and Publishers, Prescott Journal, Chesterville Record, Winchester Press, Eastern Ontario Agri-News, Tupper Lake (NY) Free Press, Gouverneur (NY) Tribune, Manotick Messenger, Barrhaven Independent, Russell Villager
Awarded Posthumously to Jack, John & Robin Morris
Jack Morris
Jack Morris began his newspaper career at the Chesterville Record in the 1920s as a "printer's devil" and spent 65 years in the community newspaper business. It would have been more, but he served as an intelligence officer in WWII. In 1947, he accepted a job as the editor of the Prescott Journal. He became a partner in 1949, and he became sole proprietor of the business in 1963. Jack sold his interests in the company to his sons, John and Robin, in 1976 and stepped back from the day-to-day operations of the business, though he remained on staff as a reporter and columnist.
Jack was an Ontario Community Newspapers Association board member and president, as well as a board member and president for the Canadian Community Newspapers Association. He received the Canadian Community Newspapers Association Gold Quill Award in 1976 for 50 years of distinguished service to the community newspaper industry. He was a pioneer in modern typography and was the first community newspaper publisher in Canada to convert to cold type and go to offset.
Jack was heavily involved in the community, and in 1967, he published a book on the rich history of Prescott.
He was involved in the publishing of 3,276 community newspapers during his career. In 1989, Jack Morris was honoured with a CCNA Honorary Life Membership.
John Morris
John Morris followed in the footsteps of his father. He had a similar passion for the community, and for the newspaper business. At the age of 15, he revived the school's student newspaper, and he also worked for his father as the Prescott Journal's high school sports reporter. In 1957, 21-year-old John Morris went to the bank to get a loan and bought the Kemptville Advance. He was editor and publisher of the Advance until 1964, when he sold it to join his father at St. Lawrence Printing Company, publishers of the Prescott Journal and Cardinal News. In 1976, Morris purchased the Tupper Lake Free Press in Tupper Lake, NY, and then the Gouverneur (NY) Tribune in the late 1980s. He also partnered with his younger brother Robin to purchase the Chesterville Record, the newspaper where his father's newspaper career began. While their newspaper company was growing and flourishing at that time, the two brothers purchased the Winchester Press in 1980. In 1986, John launched the Manotick Messenger with the help of his family, and from that newspaper spawned the Barrhaven Independent in 1990.
John's lifetime in newspapers led to major contributions to the industry across Canada. He served for more than 20 years on the board of directors of both the OCNA and CCNA, and was the OCNA president in 1990. Throughout his career, he won numerous provincial and national awards for news, feature and editorial writing, photography, layout, design, and community service. He, as well, was honoured with a Gold Quill Award in 2002.
Before his passing, he released his book, Morrises' History of Prescott 1800‐2000. He wanted to update and build on his father's book. His book not only tells the historical facts of the town, but it also focuses on the people and characters who built and grew Prescott.
Robin Morris
Robin Morris was often in the shadow cast by his father and his brother, who was nearly 15 years his senior. Like Jack and John, he had a strong passion for local history and an even stronger passion for journalism. While John and Jack were in Prescott, Robin spent much of the 1970s working in Chesterville and then Winchester. He launched the United Counties Agri-News and grew it into one of Eastern Canada's largest and most successful rural agricultural newspapers. He returned to Prescott to be the editor of the Journal in the early 1980s. Robin also grew the family business by launching the Russell Villager, which operated for decades before merging with the Chesterville Record.
Robin's attention to detail was impeccable, which resulted in the Morris newspapers being among the most acclaimed publications in the country. All three of the newspapers were regular OCNA award winners. He also established himself as one of the best news and sports photographers in the industry in
Canada.
While Jack was a pioneer in printing, Robin had an eye for technological advancement within the business. He was among the first community newspaper publishers in the province to use digital photography, and he was also one of the first in Canada to use MacIntosh computers for desktop publishing.
Robin served on the OCNA board of directors for a number of years and served as president in 1991. He also played a key role in the establishment and growth of the Association's reciprocal insurance exchange. He received his Silver Quill Award for distinguished service to the community newspapers in 2003.
Jeff Morris
Jeff Morris began his career in community newspapers as a nine-year-old, working in the Prescott Journal mailroom after school and landing his first Wednesday afternoon paper route. He continued to work in the family newspaper business throughout high school, covering events at the school during the school year. In the summers, he worked as a full-time sports reporter while helping out with obituaries, production, page layout, collation and store deliveries.
Morris went to Carleton University to study Journalism and Communications. He was recruited by the school to play football, and he played for the Ravens from 1982-86. Morris graduated from Carleton as the Ravens' all-time scoring leader and is one of only a handful of players in Carleton history to be named league all-star three times.
In 1986, while he was in his final year at Carleton, he joined the family business full-time and was involved in the launch of the Manotick Messenger. He began his career selling advertising and eventually transitioned back to the editorial side of things.
In the late 1980s, Morris helped lay the groundwork for, and was involved in the 1990 launch of the Barrhaven Independent. He was a part of the editorial staff at the Independent for two years, before leaving the family business to take a job with Trajan Publishing in St. Catharines as the editor of Canadian Sportscard Collector magazine.
Morris transitioned from journalism to marketing in 1996, joining Pinnacle Brands, Inc. in Dallas as a brand manager. He went on to become a marketing and product development executive for Collector's Edge (Denver), Shop at Home Television (Nashville), and Pacific Trading Cards (Seattle). During this time, he was also an NHL columnist for ESPN.com.
Following the passing of his father in 2004, Jeff returned to Canada to work in the family business. He purchased the Manotick Messenger and Barrhaven Independent from his mother, Beth, in 2017. He also served on the OCNA's CNRIE board and was President for four years.
Between 2005 and 2021, Morris was a top-three finalist for more than 60 OCNA awards. He is a two-time winner of the OCNA Stephen Shaw Reporter of the Year Award, a two-time winner of the OCNA Humour Columnist of the Year, a winner of the OCNA Columnist of the Year Award, and he was also a winner of the CCNA Award for best local editorial.
He says the highlight of his newspaper career was being able to work through two bouts of bone marrow/plasma cancer. In 2019 he lost a quarter of his skull to a tumour that had penetrated his brain. He had a craniotomy and brain surgery on May 9 and was able to put a newspaper out four days later. In 2020, after a stem cell transplant, he produced and sent four editions of the Messenger and Independent to print from his bed at the Ottawa Cancer Centre.
"If my father, my uncle and grandfather would be proud of me for anything, it would be that," he says. "Being a Morris means having a relentless work ethic and a thirst for excellence, and I learned that from all members of my family."
This is why the Ontario Community Newspapers Association is thrilled to announce Jack, John, Robin and Jeff Morris as inductees of the OCNA Hall of Fame.
The OCNA Hall of Fame Award recognizes and celebrates individuals who have made exemplary contributions to Ontario's community newspapers. Inductees are respected community news professionals who have remained passionate about the industry throughout challenges, opportunities, and changes. They are leaders who have helped community newspapers adapt and grow.