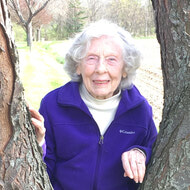 Jean Morrison, Publisher, Napanee Beaver and Picton Gazette
Jean (nee Bier) Morrison was an integral, active and admired leader in the community newspaper business for many years.
Born in New Hamburg, she was a teacher by trade. After graduating from the University of Western, she taught mathematics at Napanee District Secondary School before marrying newspaper Editor, Earl Morrison.
The couple bought the Napanee Beaver in 1953 and became pillars in the Lennox & Addington community.
In 1977, they expanded and purchased Canada's oldest community newspaper, the Picton Gazette. But tragedy struck the Morrison family one year later when Earl passed away unexpectedly.
"I found inspiration in the way she was able to pick up and carry on after the untimely and sudden passing of her husband J. Earl Morrison," said Jason Parks, Editor of the Picton Gazette. "She more than likely could have sold her newspapers and found something else to do. In that time of the late 1970's, the Kay Grahams of the world were few and far between. But Mrs. M soldiered on. Charted her own path, wading into the male-dominated fray of the publishing world. And she succeeded."
She became one of the few female publishers of a multi-newspaper chain in Canada and set the highest of standards for journalism and advertising excellence.
In her own words in a forward in Lennox & Addington, a historical account of the people and places of that municipality, Jean Morrison admitted she managed her newspapers in her own style, exhibiting her own flair and foresight.
"I have been managing the newspaper now for more than 30 years, but not necessarily in the style that Earl might have. That was his dream. As publisher, however, I have enjoyed my many years in this warm and friendly community."
"When covering events in the community early in my career, interview subjects would frequently turn the questions around on this reporter, inquiring as to how Mrs. Morrison was doing," wrote Adam Prudhomme, Editor of the Napanee Beaver, in an article. "They'd then share stories of how they knew Mrs. Morrison, whether it was through curling, golfing, the newspaper, or even from her days as a teacher."
A woman of many talents, Jean filled her spare time with a variety of hobbies. She loved to golf. She was an avid curler until she turned 90. She sang in church choir and played clarinet in a band into her early 80s.
Jean valued her community and spent many years on boards for local organizations and was a proud supporter of many charities.
She was a long-time member of the Canadian Community Newspaper Association, the International Press and served as President of the OCNA in 1987. She was always keen to make a difference and lend a helping hand when it was needed.
Her most notable act of kindness, however, dates back to 1973 when she and Earl adopted three siblings, aged 13, 11 and 9, who were then living in a foster home. She would later become grandmother to six and great grandmother to one in 2018.
The Picton Gazette was extremely saddened to learn of Mrs. Morrison's passing at the age of 97 in October of 2019. "The commitment she has shown during her tenure as publisher of this newspaper is something every local resident should be thankful for," said Jason Parks. "In a tumultuous time for local newspaper reporting, our dear publisher has remained dedicated to her passion of presenting the news in a fair and balanced manner while providing an independent voice for Prince Edward County. Her legacy here will be one of enduring commitment to our island community."
"Though she was in her 98th year, the news still came as a shock to the staff at the Beaver office because she always gave off the energy of someone much younger. Working well into her 90s, she continued to have the final say in all business decisions, overseeing two newspapers that were vital to their community through a time when others across the country were disappearing," wrote Adam.
Which is why the Ontario Community Newspapers Association is thrilled to announce Jean Morrison as an inductee of the OCNA Hall of Fame.
The OCNA Hall of Fame Award recognizes and celebrates individuals who have made exemplary contributions to Ontario's community newspapers. Inductees are respected community news professionals who have remained passionate about the industry throughout challenges, opportunities, and changes. They are leaders who have helped community newspapers adapt and grow.