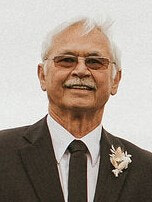 Murray Skinner
Retired President, Metroland Media Group
Murray Skinner's newspaper career spans over 40 years, 33 of them with Metroland, preceded by 8 years with Thomson Newspapers. He served as Metroland's vice president of marketing for 19 years, before being appointed president in 2000. He retired in 2008. During his 8 years as president, the chain of media companies (Metroland) grew from the third largest piece of Torstar Corporation to the largest.
During this time, he presided over some of the most exciting changes to impact the newspaper industry.
He guided the expansion of Metroland community newspapers throughout Ontario while building an online presence that positioned the company as an industry leader. Metroland's operations at the time included three daily newspapers – the Hamilton Spectator, The Record of Kitchener-Waterloo, and the Guelph Mercury – and more than 100 community newspapers. His tenure included the start of several new publications and a move into new markets such as Niagara, Muskoka and Ottawa.
He helped build on Metroland's culture of entrepreneurship and innovation, expanding the company's geographic reach, products and services.
Murray Skinner is a true pioneer in our industry. Among other tremendous accomplishments, the development of the quality distribution program at Metroland has become the gold standard that advertisers request, and many other newspapers emulate. Murray has been very generous in sharing his expertise and success formulas with newspaper companies throughout North America.
"I'm proud of the variety of ways we serve our community with shows, our newspaper, Internet, magazines and printing," Mr. Skinner said.
"The future of Metroland will be similar to its past; we have to be open to adapting and change. It's our people who will make it happen."
In addition to his career at Metroland, Mr. Skinner was a director of Black Press, and a member of CCNA's Distribution Committee, the Retail Advertising Club of Toronto, Advertising & Marketing Club of Toronto, Canadian advisory board for Canadian Circulation Audit Board, and a founding member of the Flyer Distribution Standards Association.
Upon retirement Murray was recognized with several industry awards including the CCNA Silver Quill Award for 25 years of service, the CCNA Honorary Life membership in recognition of his contribution and support of community journalism in Canada and the prestigious Southern Newspaper Association Dean S. Lesher Award recognizing outstanding leadership in the suburban and community newspaper industry.
The OCNA Hall of Fame Award recognizes and celebrates individuals who have made exemplary contributions to Ontario's community newspapers. Inductees are respected community news professionals who have remained passionate about the industry throughout challenges, opportunities, and changes. They are leaders who have helped community newspapers adapt and grow.