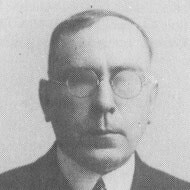 Rixon Rafter, Owner, The Arthur Enterprise News
Born in 1885, Rixon lived to become recognized as a pioneer in weekly newspapers, despite losing his eyesight as a youth.
With an intense love of journalism, and a degree from Queen's University, he purchased a weekly newspaper, the Arthur Enterprise News (then known as the Arthur Enterprise) in 1908. He retired after 45 years of devoted service to the community.
He had a printer to do the mechanical work in the shop, but Rixon dedicated himself to gathering news, writing editorials, and securing advertisers. It is rumored that on many occasions, Rixon wrote entire columns and reported council meeting proceedings without taking down a single memo. His mind and memory were the only notebook he needed.
In 1954, he was named Weekly Newspaperman of the Year by the Ontario Division of the Canadian Weekly Newspaper Association.
"Now this is by no means the first time that a blind person has risen above his disability to a place of success and influence in the world affairs, but such prominence has usually been attained in some field where the sense of hearing or of touch was of more importance than that of sight. But Rixon Rafter, of Arthur (Ont.) Enterprise, chose a profession which no blind man in Canada had ever chosen before him. He spent a lifetime as the editor of a small-town weekly paper."
In acceptance of the award, Rixon said, "I will accept it, not because it might show any accomplishment on my part, but only in hope that it might reveal to sightless people an avenue of opportunity open to them."
The Rixon Rafter Scholarship Fund was created to honour his achievements. It is available to Canadian students who are legally blind and pursuing post-secondary education.
This is why the Ontario Community Newspapers Association is thrilled to announce Rixon Rafter as an inductee of the OCNA Hall of Fame.
The OCNA Hall of Fame Award recognizes and celebrates individuals who have made exemplary contributions to Ontario's community newspapers. Inductees are respected community news professionals who have remained passionate about the industry throughout challenges, opportunities, and changes. They are leaders who have helped community newspapers adapt and grow.