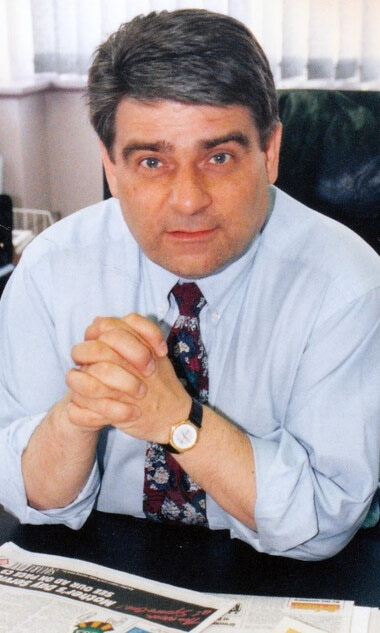 Ron Lenyk
Vice President,
Newspaper Strategic Support
Torstar
Awarded Posthumously
Ron Lenyk began his career in 1970, working for the Mississauga News as a sports reporter and was promoted to sports editor not a year later. By June 1971, he was promoted to editor and in 1977 was named publisher of the Brampton Guardian.
Two days before his 32nd birthday, in 1978, Ron was named publisher of the Mississauga News. Under his direction, the newspaper became the most profitable, award‐winning suburban newspaper in Canada, winning hundreds of awards at the local, provincial, national, and international levels.
He eventually became the South Peel Regional Publisher and Vice President of Metroland Media Group. In 2009, Ron was named Vice President of Newspaper Strategic Support for Torstar Corporation.
Throughout his long career, Ron won many coveted awards and honours, including the Canadian Community Newspapers Association's Silver Quill Award for 25 years of outstanding service, Ontario Community Newspapers Association's President's Award for Exemplary Service to the newspaper industry, and most notably, Suburban Newspapers of America's Dean S. Lesher Award, the highest award in suburban newspaper publishing in North America. He also sat on the Ontario Press Council.
A staunch community leader, advocate, and volunteer, Ron played instrumental roles in community organizations such as United Way of Peel Region, Interim Place, Peel Partners for a Drug‐Free Community, the Peel Lung Association, the Mississauga Sports Council, Success by 6 Peel, both hospitals in Mississauga, Mississauga Opera Company, Mississauga Board of Trade, Fair Share for Peel, Mississauga Deaf Ice Hockey League, and the Mayor's Gala Hospital, just to
name a few.
Ron helped to transform The Mississauga News into one of North America's largest and most profitable papers. He took it from the dead-ball era (typewriters and typesetting) to the digital age and beyond.
This is why the Ontario Community Newspapers Association is thrilled to announce Ron Lenyk as an inductee of the OCNA Hall of Fame.
The OCNA Hall of Fame Award recognizes and celebrates individuals who have made exemplary contributions to Ontario's community newspapers. Inductees are respected community news professionals who have remained passionate about the industry throughout challenges, opportunities, and changes. They are leaders who have helped community newspapers adapt and grow.