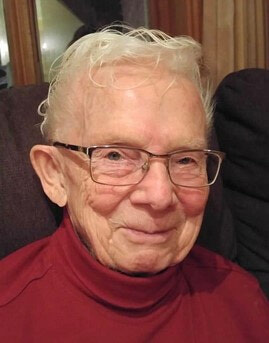 William (Bill) Charles Cavell,
Publisher,
Iroquois Falls Enterprise
Awarded Posthumously
William (Bill) Charles Cavell began his over 72-year career in the newspaper business in a small way. Learning that his high school had no newspaper, Bill stepped in to fill the void with a mimeographed sheet that he sold to fellow students. He also wrote a column as sports editor of Canadian High News. Eager to "Get busy right away" after graduation, he got the job of night editor at the daily Owen Sound Sun Times.
Needing a district reporter to cover southwestern Ontario, the Toronto Telegram liked what they saw in Bill when they interviewed, and he was hired.
It was while working for the Telegram that reporter Bill got his biggest story that shook Canadian justice. He and a colleague were the first reporters to interview 14-year-old Steven Truscott. Truscott was charged with the rape and murder of classmate Lynne Harper. After his wrongful conviction, Truscott spent 50 years seeking justice until he was finally acquitted in 2007.
After a brief stint as editor of the Confederation Life Insurance Company magazine, and then reporting and selling ads at the Goderich Signal Star, Bill was given his first opportunity to run his own paper. A friend offered to print a weekly paper in the small town of Thedford (population 700). The entire family pitched in.
But after 3 years, Bill needed a new challenge. He wanted to start his own paper, with no financial backing. After extensive research and several possible locations, he made his decision.
At Christmas 1963, the brand new Enterprise hit the streets of Iroquois Falls. Getting it up and running was no easy task. Bill wrote all the copy and sold all the ads, and the family helped out too. Beginning as a free paper for three months, the local minor hockey association started selling $3 subscriptions. He remained publisher for 56 years.
After moving to Ottawa in 1980, he continued to run the Enterprise long distance, with the help of very competent staff.
Bill received the Canadian Community Newspapers Association's Silver Quill Award in 1991, recognizing 25 years of distinguished service to the newspaper industry.
Right up to the day of his death, Bill was still involved with the running of The Enterprise. Just a few hours before he died, he was giving instructions to be relayed to his staff.
This is why the Ontario Community Newspapers Association is thrilled to announce William (Bill) Charles Cavell as an inductee of the OCNA Hall of Fame.
The OCNA Hall of Fame Award recognizes and celebrates individuals who have made exemplary contributions to Ontario's community newspapers. Inductees are respected community news professionals who have remained passionate about the industry throughout challenges, opportunities, and changes. They are leaders who have helped community newspapers adapt and grow.