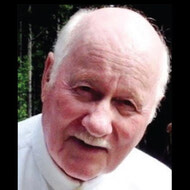 Charles (Charlie) Whipp, Publisher/Editor, The Petrolia Advertiser-Topic
A long-time newspaperman, Charlie was most recognized for his weekly editorials. He usually wrote three per issue! And they explored all topics and included everything from municipal matters to medieval engineering.
He worked for the London Free Press and the Windsor Star for several years in the early 1950s. He then moved on to editor and publisher of the Advertiser-Topic in Petrolia, taking on the role as owner from 1962 until 1979.
According to Heather Wright, Publisher of the Independent Serving Petrolia and Central Lambton, "his influence on the newspaper's pages was immediate when he purchased the paper; the reporting included investigative pieces and feature stories, presented in a fresh and appealing new design."
His son, Ted, who followed in his father's footsteps, said his father made the Petrolia newspaper a landmark.
"He had become an icon in the business…his editorials provided a voice widely-heard and widely-respected by readers, community leaders and local, federal and provincial politicians alike."
The Petrolia paper was not only one of the few community newspapers with its own press, but it was the first weekly to move from hot type into the new field of cold typesetting, a precursor to computerized newspapering.
"Charlie was always interested in new ideas and enjoyed pursuing innovation and improvements in the newspaper industry," said Heather. "He was not only enthusiastic about the reporting and writing side, he had a keen mind for the technical side as well."
He sold the Advertiser-Topic in 1979, and for a few years in the early 1980s, he operated Lambton Editorial Services from Petrolia, a freelance venture in which he continued to report and write stories for newspapers such as the Observer and the London Free Press.
Charlie moved to BC later in life but managed to remain connected with his hometown. When Heather launched the Independent in 2013, friends and family members would occasionally send him a copy. Roughly two years into the venture, she received a letter from Charlie offering encouragement.
This is why the Ontario Community Newspapers Association is thrilled to announce Charles (Charlie) Whipp as an inductee of the OCNA Hall of Fame.
The OCNA Hall of Fame Award recognizes and celebrates individuals who have made exemplary contributions to Ontario's community newspapers. Inductees are respected community news professionals who have remained passionate about the industry throughout challenges, opportunities, and changes. They are leaders who have helped community newspapers adapt and grow.